Recipe by Toni Okamoto
This pizza braid is incredibly easy to throw together, and absolutely delicious to eat! It's great for potlucks, sports parties, family nights, or just because. You can also separate the pieces, freeze them, and have lunch for the week!
In addition to being easy and tasty, it is also a very versatile recipe. You can choose to make your own crust, you can use whatever veggies you have on hand, skip the vegan cheese or pepperoni if you're on a budget, use any kind of sauce (pesto, BBQ, marinara)…the options for the pizza are limitless!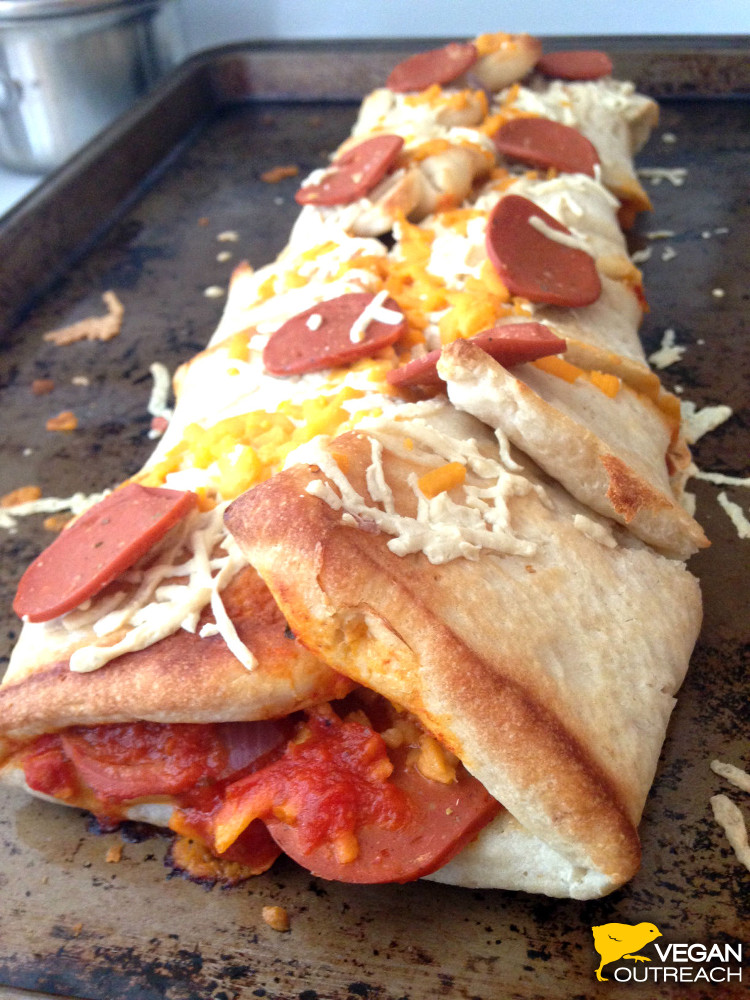 Ingredients:
1/2 red onion, diced
1/2 green bell pepper, diced
1 can Pillsbury classic pizza crust, or any vegan crust
1/2 cup pizza sauce
2 cups shredded mozzarella and/or cheddar cheese (Daiya or Follow Your Heart)
Any other favorite vegan pizza toppings
Directions:
Heat oven to 425°F. Lightly grease a baking sheet.
Sauté or steam onion and bell pepper until fully cooked.
Unroll pizza crust and press into a 10-x-13-inch rectangle onto prepared baking sheet. Use a knife to cut 8 equal strips along each of the two longer edges, leaving a 3-inch space down the center of the dough rectangle.
Spoon pizza sauce along the center of the pizza dough, then sprinkle with 3/4 cup of the vegan shredded cheese. Top with cooked veggie toppings, then sprinkle 3/4 cup shredded cheese.
Starting from one end, fold strips of dough over the filling to the center, so the ends overlap and it looks braided. Sprinkle top with remaining cheese and pepperoni.
Bake 20 minutes until crust is golden brown and baked through.