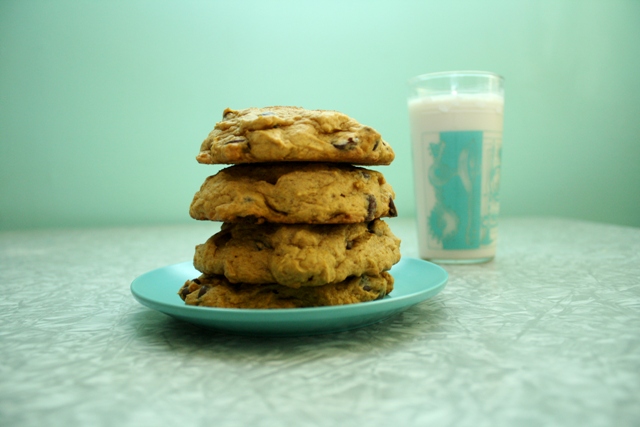 By Toni Okamoto
It's fall and I want pumpkin everything! Starting with these delicious cookies!
Ingredients:
1 C vegan butter, at room temperature
1/2 C brown sugar
1/2 C granulated sugar
1 C pumpkin puree
1 1/2 tsp vanilla extract
1/4 C apple sauce
1/8 tsp salt
1 tsp cinnamon
1 tsp baking soda
2 C flour
1 C non-dairy semi-sweet chocolate chips
1/2 C chopped walnuts (optional)
Directions:
Preheat oven to 350 degrees. In a large bowl, mix brown and granulated sugars until creamed. Add pumpkin, vanilla and apple sauce and mix well.
Add dry ingredients and mix thoroughly. Fold in chocolate chip and walnuts, if using.
On a greased pan, place flattened cookie dough at the size of your preference. I made 12 large cookies, as photographed. Bake for 12-15 minutes, until they look dry – but try not to burn the bottom.
Let sit until cooled. Enjoy!