By Alex Bury, VO Organizational Development Consultant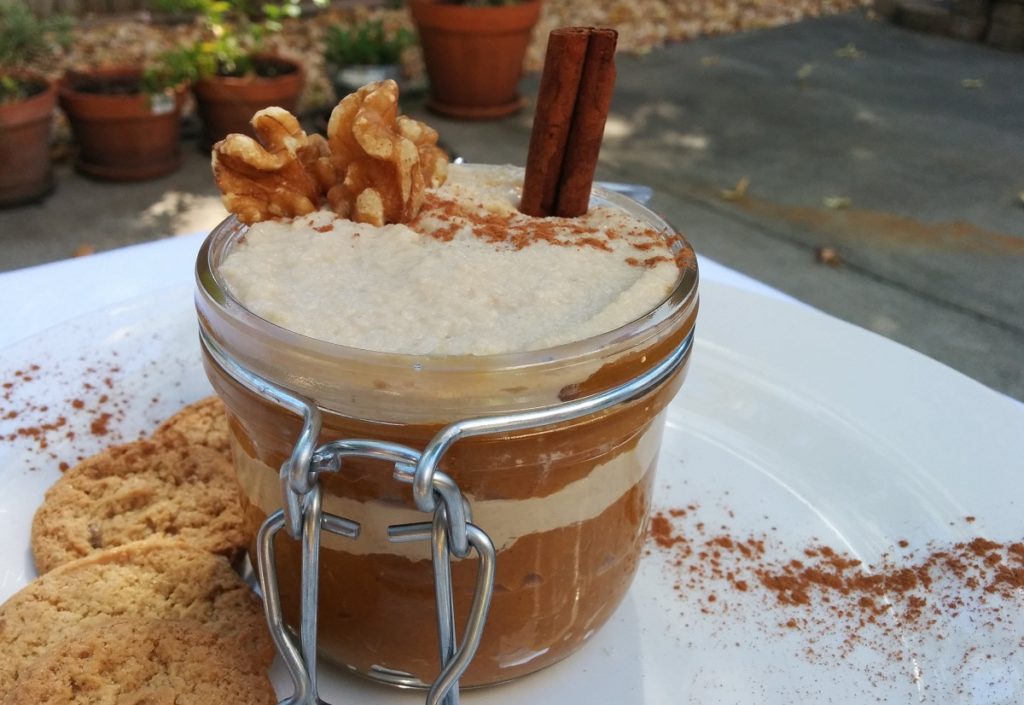 It's true. You can make pumpkin-flavored anything—including mousse!
And we've still got plenty of time to enjoy pumpkin season, so give this delicious dessert a try!
Pumpkin Pie Mousse
Yields 4 servings.
Ingredients
Cashew Cream
¾ cup raw cashews
2 tablespoons maple syrup
1 tablespoon brown sugar
1 teaspoon vanilla extract
Pumpkin Mousse
5 dates, pitted
1 15 oz. can pumpkin
1 teaspoon pumpkin pie spice
1 tablespoon maple syrup
1 tablespoon brown sugar
Directions
Cashew Cream
Soak the cashews in enough water to cover for 2 hours.
Drain the cashews and puree in a blender or food processor with maple syrup, brown sugar, and vanilla until very smooth. Add 1-2 tablespoons of water if needed. Set aside.
Pumpkin Mousse
Soak the dates in warm water for 30 minutes. Drain.
Puree all ingredients in a blender or food processor until very smooth and creamy. Taste and add more sweetener or spice if you prefer.
Assembly
Carefully alternate layers of pumpkin mousse and cashew cream in a clear glass bowl or individual glass cups. Chill until your sweet tooth is ready for dessert! Serve with any of the optional toppings listed below!
Recipe Variations
Try any of these toppings for an extra crunch—½ cup walnut halves, ½ cup pecan halves, vegan ginger snaps (Newman's Own are vegan!), and/or ¼ cup chopped candied ginger.