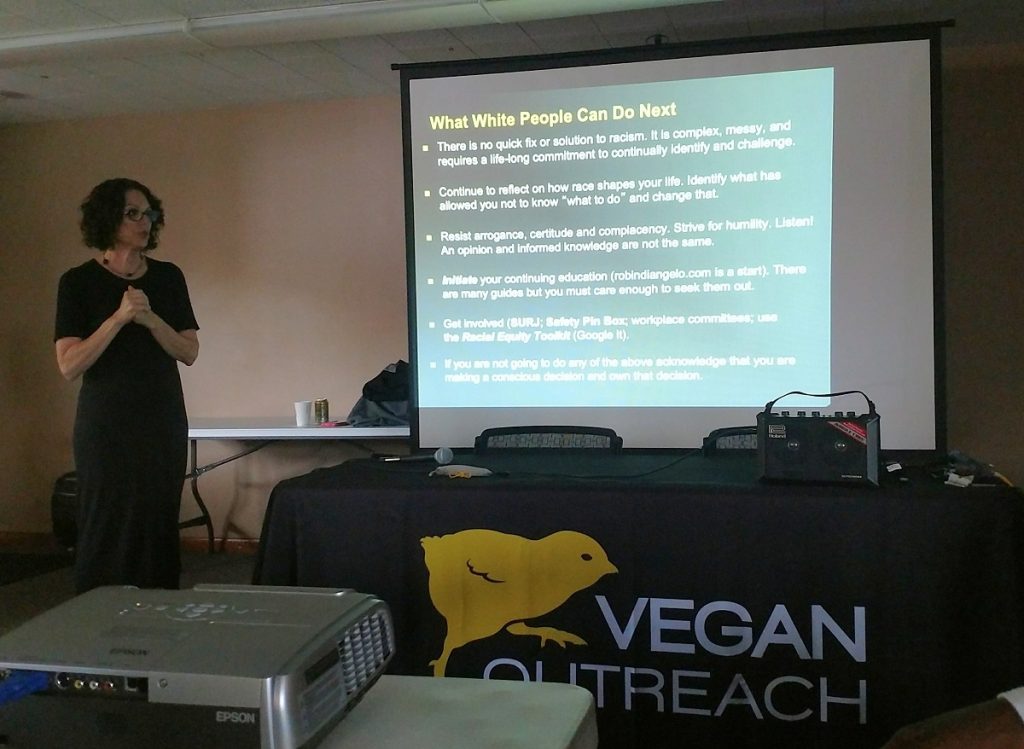 On Saturday, August 12, Vegan Outreach staff, board members, and donors attended a workshop by racial and social justice educator, Dr. Robin DiAngelo, and Liz Ross, co-founder and director of Vegan Advocacy Initiative.
It was ironic to leave the workshop and find out that—while we were talking about how to challenge racism—a crowd of white supremacists was rallying in Charlottesville, VA.
Of course, we're appalled by blatant racism, but it's easy to forget that racism is a systemic issue that operates in subtle ways that are largely invisible. It's not about good or bad intentions—it's about the systems we live and work within and the unconscious biases that, by definition, we don't even know we have.
Until it's pointed out, it's not obvious how much easier being white can make moving through society. White people usually don't have to be afraid of the police when engaging in activities such as leafleting or protesting. White people don't have to deal with residents wondering why they might be in a wealthy neighborhood, or whether their race will be a problem in a job interview.
We don't know the right words to say, but we believe that not speaking out against racism is the worst choice we could make. It's uncomfortable to talk about, but being silent only maintains the status quo. By feeling this discomfort and acknowledging these issues we're widening our capacity for compassion.
Here's what that looks like for Vegan Outreach—
Listening to the perspectives of activists of color, and being open to learning even if it makes us feel defensive or judged.
Making inclusivity a goal in our booklets, online materials, events, and outreach.
Further educating ourselves about racism, starting with resources like Dr. DiAngelo's.
Continuing to use our platform to speak up for justice.
There will always be room to grow and more to learn. None of us can individually end racism, and there's no one-size-fits-all solution, but we can each play a role by doing something.