By Lori Stultz, VO Rocky Mountain Outreach Coordinator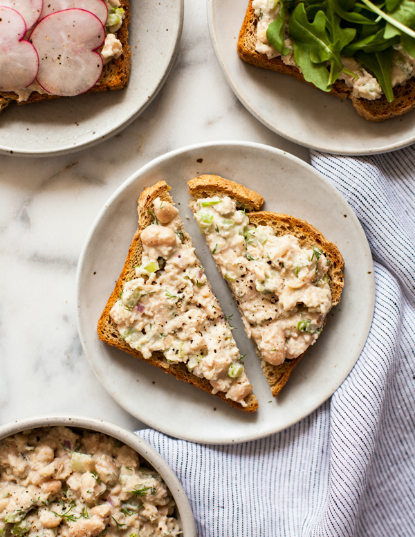 If I lived anywhere near New York City I'm pretty sure I'd want to be spending all of my free time with Gena Hamshaw, author of my favorite vegan blog, The Full Helping. I sort of feel like I already do, given that I visit her blog multiple times a week and refer to her cookbooks regularly. Knowing what I do about Gena from her blog we have a lot in common—including similar interests, like psychology related topics, and a passion for helping other people and beings.
Moreover, we both adore certain flavors and types of food, which Gena does a fabulous job of incorporating in a lot of her recipes. Today I'm talking particularly about beans and tahini. Gena has come up with some of the most unique ways of using both (I highly encourage you to check out her blog to see for yourself), and the recipe I'm about to share, Smashed Garlic Tahini White Bean Salad on Toast, is no exception.
What I love most about this salad is its versatility. The first time I ate it I spread it on toast, but it can easily be used as a dip for raw veggies, or as a bowl or salad component. A few of the veggies I topped it off with were sprouts and arugula. Oh, and I also added a few cucumbers. Gena makes some other great recommendations for salad toppers, like radishes and avocado. Don't be fooled, though, this salad is mighty tasty just by itself. Don't fret about extra veggies if you don't have any on hand.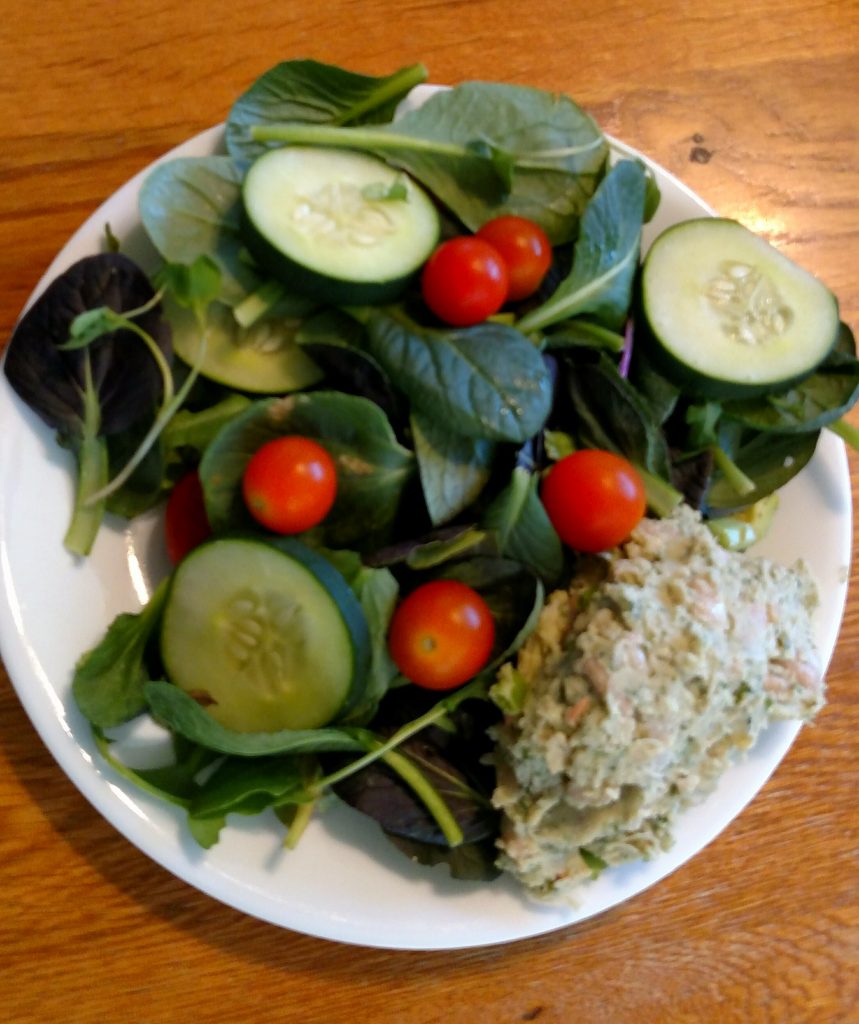 Smashed Garlic Tahini White Bean Salad on Toast
Yields about 2 ½ cups.
Ingredients
1 teaspoon olive oil
1 whole head garlic, top sliced off crosswise
¼ cup tahini
⅓ cup water
Juice of 1 lemon (2-3 tablespoons)
1 teaspoon Dijon mustard
¾ teaspoon salt
¼ teaspoon freshly ground black pepper
3 cups cooked cannellini, great northern, or navy beans (or 2 cans white beans, drained and rinsed
1 large or 2 small stalks celery, finely chopped
2 tablespoons minced shallots (substitute green onion)
¼ cup loosely chopped, fresh dill (substitute 2 tablespoons dried dill, or you can try another herb of choice)
Directions
Preheat the oven to 375°F. Rub the teaspoon of olive oil over the exposed garlic cloves. Wrap the whole head of garlic in foil and place on a baking sheet. Roast for 35-40 minutes, or until the head of garlic is very soft and the cloves are lightly golden.
Place the tahini, water, lemon, mustard, salt, and pepper in a blender or food processor. Squeeze all of the cloves of garlic from the roasted head into the blender. Blend the ingredients on high till creamy and smooth.
Place the beans, celery, shallot, and dill in a mixing bowl. Add about three quarters of the dressing (you may want to hold off on using all of it until you mix up the salad and see whether you'd like to use more). Use a potato masher or fork to mash the dressing up with the beans, smashing only about half of the white beans (you want half of them to stay whole). Taste the salad, add more dressing as needed, and season to taste with salt and freshly ground pepper.
Spread the salad on toast and top with toppings of choice. Serve.
Recipe Tips/Variations
I was pressed for time when I made this meal, so I used garlic powder. If you're not trying to get in and out of the kitchen quickly, definitely roast the garlic. The salad will have a much richer flavor.
I swapped out the dill for parsley, which is why my salad turned out a bit on the green side. There are a handful of herbs that would go well in this salad—get creative and throw in what sounds best to you!