This semester, Kim Moffatt has traveled to 38 different schools, handing out 19,679 booklets, and Vic Sjodin, VO's Director of Outreach, has handed out 8,027 booklets at 25 different campuses!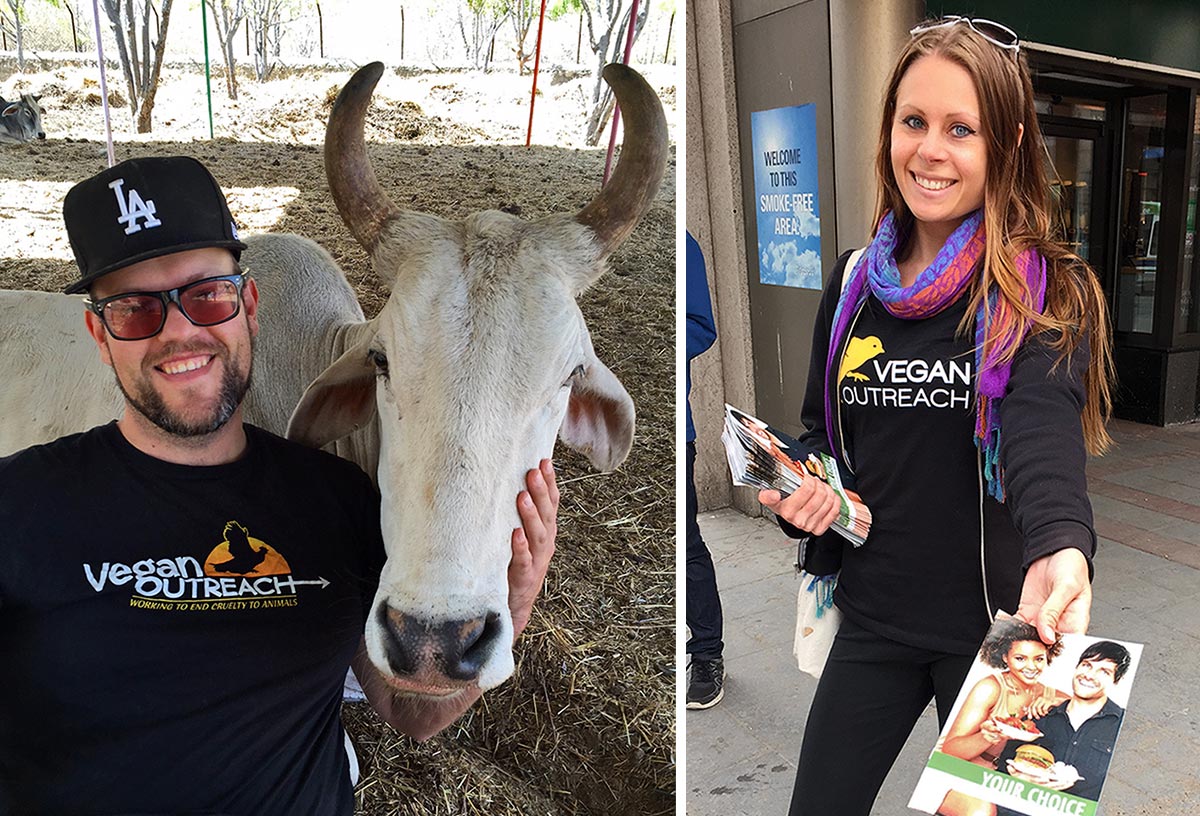 Kim and Vic spent several weeks in India this semester—leafleting colleges and universities, speaking to students, and giving seminars to local activists.
On January 25, Vic spoke to more than 100 students at Rama PG College in Lucknow:
Abhishek Dubey [below, far right] is a stellar volunteer: a young engineer and passionate vegan who held the fort leafleting solo at this small college for several hours.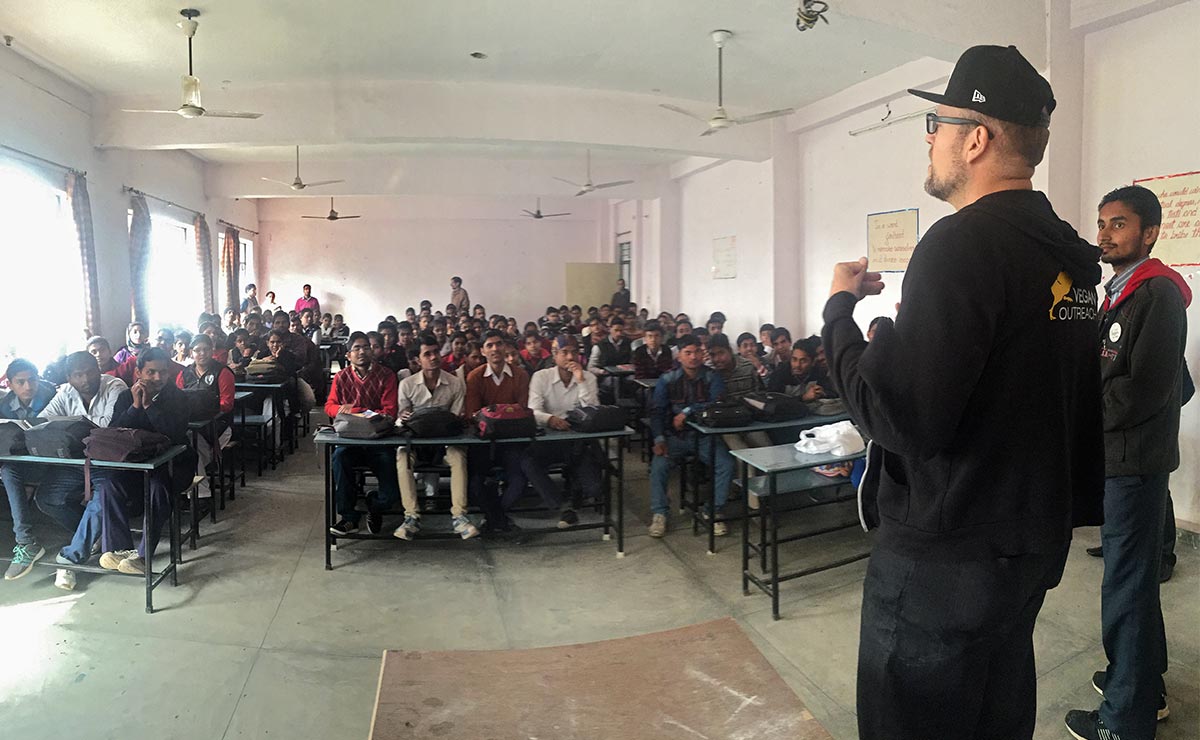 Below is Kim at Banaras Hindu University in Varanasi, where she and fellow activists reached 3,400 students on February 1.
On February 17, Kim and Vic stopped at Gujarat University in Ahmedabad, where they handed out 800 booklets with help from a young volunteer (below, right) and Shweta Sood. On February 26, Kim and Vic teamed with Sanjana Sharma, Subru Santakumar, and Fivos Deshpande at the Rajeev Gandhi College of Management Studies in Navi Mumbai, handing out 3,000 booklets. Vic reports:
Best part of the day was meeting Nisha [below, left], who read the booklet and was moved and asked why we were here. I spoke to her to cement what the booklet had awakened in her and after those 10 minutes further explaining things, I asked, "Do you have any other questions or comments?" To which she slowly answered, "I think you just turned me vegan." Bingo.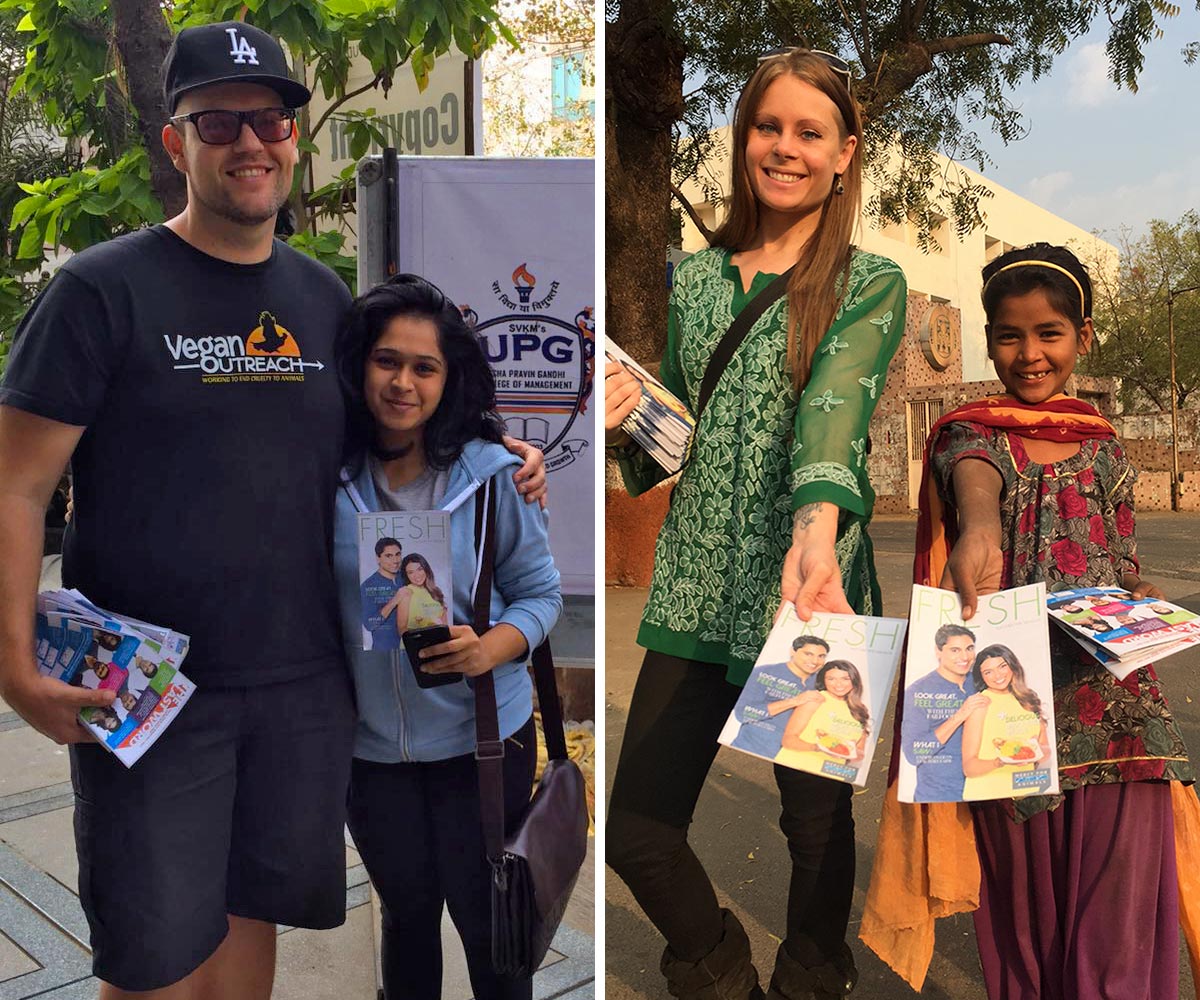 On March 29, Kim handed out 1,300 VO booklets at Utah Valley University:
I briefly talked to a vegan woman and her husband [below, left]—after our conversation and getting a leaflet, he's now going vegan!
On April 6, Kim and two volunteers reached more than 2,000 students at the University of Manitoba:
Fantastic start to the Canadian part of the tour!

I met with volunteer Jade Dimaline, who was leafleting for the first time but it didn't seem like it after I gave her a few tips—she was super comfortable talking to everyone and had a fabulous arm extension!

Then I was met by Trevor Chapen, a great local activist who has leafleted and done presentations to kids before. That's when we met Jonah Olson [below, center], who wants to get involved after being handed a leaflet today! We also met a student, Taige [below, right], who is interested in moving towards a vegan diet after receiving a leaflet from us today! That was an incredible feeling.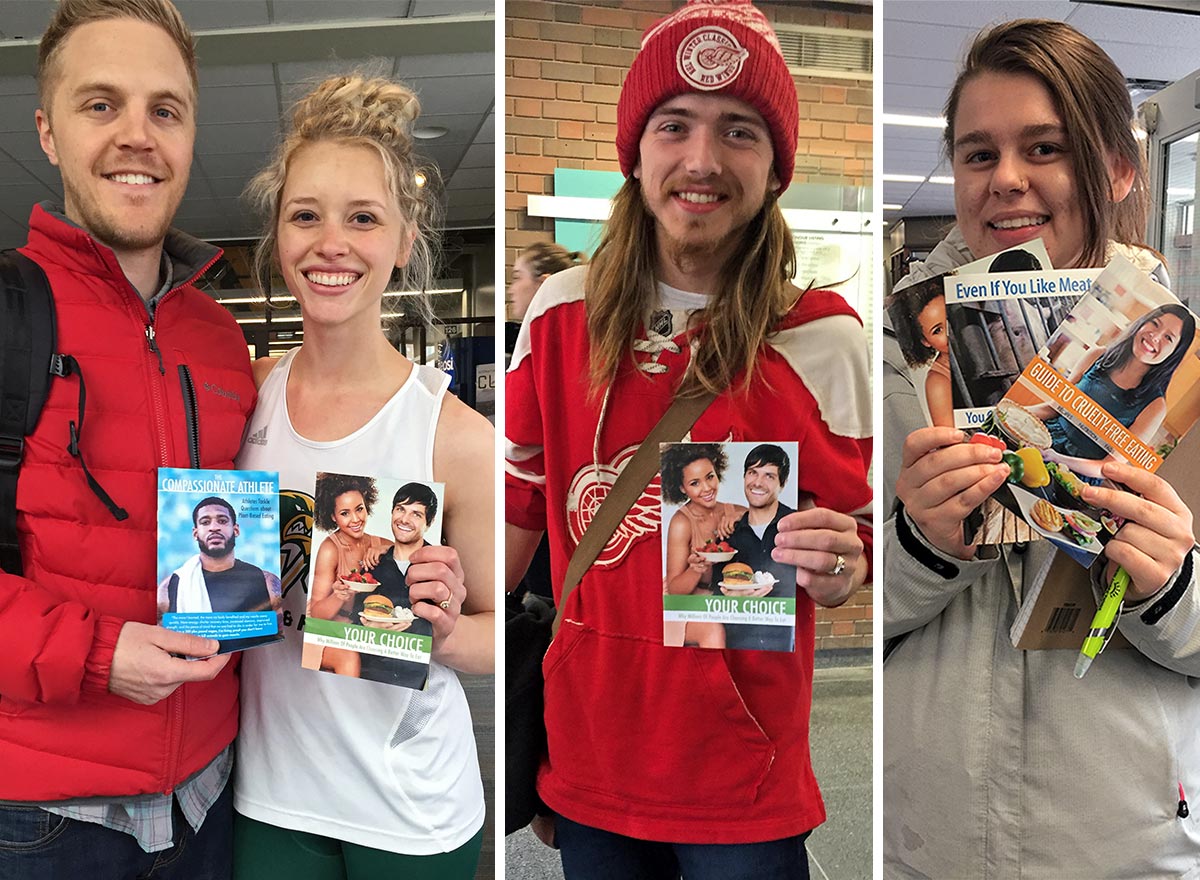 Now you can inspire twice as many new vegans and spare twice as many animals from suffering: Make a donation to Vic's Team Vegan page and receive dollar-for-dollar matching!