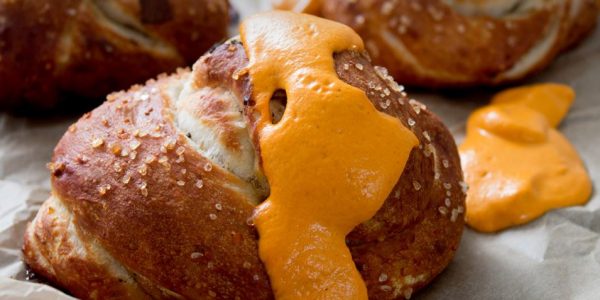 Our friends at Tofurky have set the bar high for creating vegan versions of the foods we all enjoyed prior to going vegan. And this recipe is no exception!
We recommend making and taking these pretzels to a party, serving them to your non-vegan friends, and sitting back and watching their reaction when you tell them they're vegan.
Stuffed Pretzels Knots with Nacho Cheese
Yields 4 servings.
Ingredients
Pretzel
1 pound prepared pizza dough, divided into 4 pieces
2 tablespoons vegan butter
3 garlic cloves, smashed
1⁄2 cup diced Tofurky Smoked Ham or Tofurky Hickory Smoked Deli Slices
1 tablespoon fresh thyme leaves
Black pepper
2⁄3 cup baking soda
1 tablespoon pure maple syrup mixed with 1 teaspoon water
Coarse salt or pretzel salt
Nacho Cheese
1⁄2 cup raw cashews, soaked for at least 2 hours
1⁄3 cup jarred roasted red bell peppers
2 tablespoons nutritional yeast
1⁄2 teaspoon ground turmeric
1⁄4 teaspoon fine sea salt
1⁄8-1⁄4 teaspoon ground cayenne pepper
Directions
Preheat oven to 425°F. Line a baking sheet with parchment paper.
In a small skillet over low heat, melt butter and sauté garlic for about 1 minute.
Roll each piece of dough into a 1⁄2" thick rope and flatten with a rolling pin. Brush with garlic butter, sprinkle with ham, then roll up tightly widthwise, so the dough once again forms a 1⁄2" thick rope. Fold rope in half over your finger, twist loose ends around each other a few times, then tuck the end into the loop created by your finger.
In a large saucepan, bring 10 cups water and baking soda to a boil. Using a slotted spoon, place each pretzel in the water for 30 seconds, drain well, pat dry, and place on baking sheet. Brush lightly with syrup glaze and sprinkle with salt.
Bake until golden brown, about 15-20 minutes.
In a blender, process cashews, bell peppers, nutritional yeast, turmeric, salt, cayenne, and 1⁄4 cup water until completely smooth, adding a little more water if needed to blend.
Serve pretzels warm with cheese sauce.
Click here for the original recipe.