Happy new year, 2022. We have had fantastic accomplishments leading to tangible and lasting change this past year only because of our generous supporters.
Vegan Outreach India dedicates this newsletter to all the supporters.
Green Tuesday Initiative Reduced 336,000 Kg of Animal Products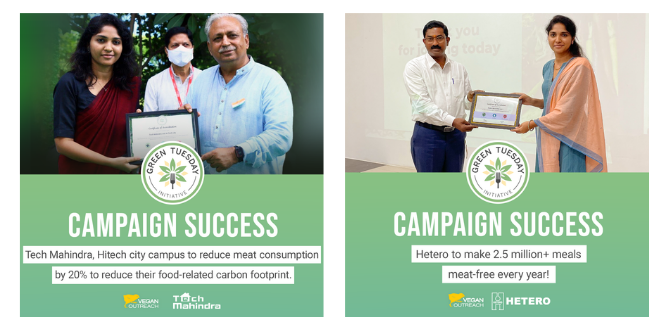 We had our biggest successes last year. We partnered with 10 major entities in India and implemented the Green Tuesday Initiative.
Here are some highlights:
Tech Mahindra, a global IT giant, implemented the Green Tuesday Initiative in 14 campuses across 5 locations. This change reduced 249,600 kgs/ 550,273 pounds of meat and 7,800 eggs.
Reva University, one of the largest private universities in south India, partnered with Green Tuesday to implement meatless Tuesdays. This change reduced 62,160 kgs/ 137039 pounds of meat.
Hetero Limited renewed the pledge to serve meat-free meals to their employees. They also implemented Green Tuesday Initiative in their new locations and raised awareness among employees. They now serve 2.5 million+ meat-free meals every year.
We are now part of the Telangana government advisory group to make the state's organizations more sustainable. Their IT department will also serve more plant-based food at their official events.
40,000+ Students Joined the 10 Weeks to Vegan India Program

We organized 150+ Adopt College webinars this year and signed up 40,000 students for the 10 Weeks India program.
Four colleges, REVA University, Auro University, Sanatan Dharma College, G H Raisoni University, signed the Memorandum of Understanding as part of our Adopt a College Collaborations and pledged to organize animal rights awareness events throughout the year.
We organized two virtual tours:
1. Mission Compassion, organized in May, was a huge success. 7000+ students participated in the 5-day event.
2. Mission Compassion 2.0, organized in November, encouraged 14,000+ students from 240 colleges to consider going vegan!

Our Team Expansion

Komal Tehlan is our newest outreach coordinator, spearheading college partnerships and outreach in Delhi, NCR, and other northern regions of India. She's inspired 2,200 students to join the 10 Weeks to Vegan.

Sowndarya Ganesan joined the India campaign team in March. She is an environment enthusiast and has been an asset in getting Green Tuesday partnerships.


10 Weeks Testimonial

Because of you, Praneetha could go vegan. She shared her 10 Weeks to Vegan program experience with us:


We are cherishing all of these accomplishments because of you. Thank you for being there for the animals.


With gratitude,

Richa Mehta,
Director of Programs, India