By Lisa Rimmert, Vice President of Strategic Communications
As the fall semester ends and we gear up for spring outreach, these dedicated campus leafleters have inspired us with their incredible work for animals this semester. They've spread a message of compassion to hundreds of thousands of people, making a huge impact in bringing us closer to a vegan world.
Let's take a look at what they've been up to this fall!
Jevranne Martel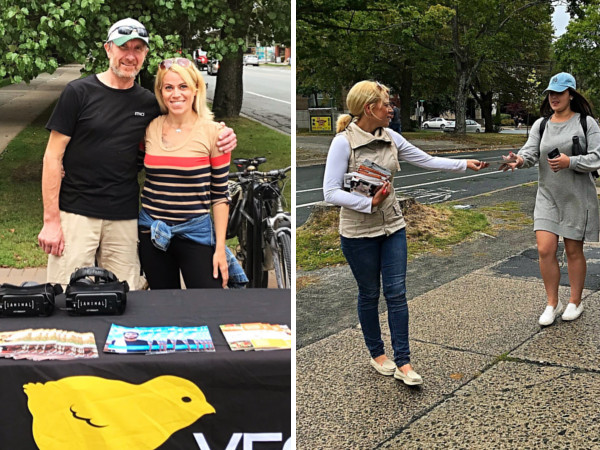 Drawing on her experience as a life coach, Jevranne Martel stays upbeat and engages people in thoughtful conversations as she leaflets. As our lone Canada Outreach Coordinator, she keeps her schedule jam-packed, traveling from British Columbia to Prince Edward Island, advocating for the animals. This semester, Jevranne handed leaflets to 26,580 students and showed virtual reality slaughterhouse footage to 198.
Carlos Contreras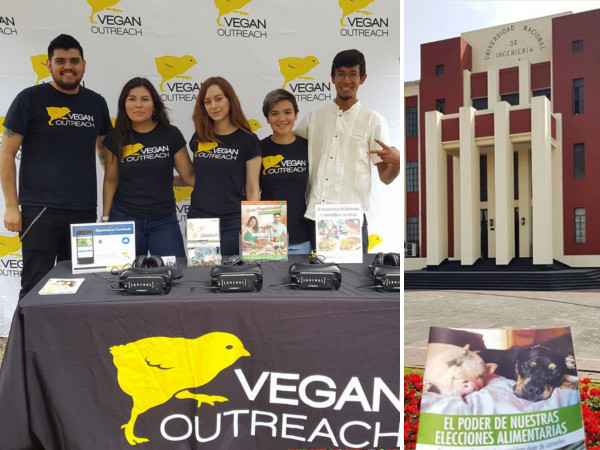 Carlos Contreras [above, left] joined Emmanuel Marquez as the two embarked on Vegan Outreach's first-ever tours in Peru and Ecuador. Encouraged by the positive response in both countries, Carlos finished the semester in his home country of Mexico. He handed leaflets to 25,742 students at a total of 42 schools this semester and he showed virtual reality videos to 220 people.
Emmanuel Marquez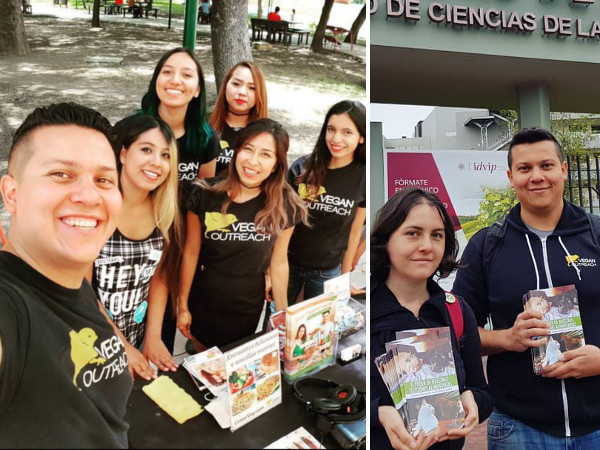 In addition to supporting outreach by numerous volunteers, Emmanuel Marquez personally showed virtual reality videos to 263 people—bringing his total to nearly 5,000 over the past two years! He also handed leaflets this semester to 28,690 people at 54 schools on outreach tours in Mexico, Ecuador, and Peru.
Sarai Garcia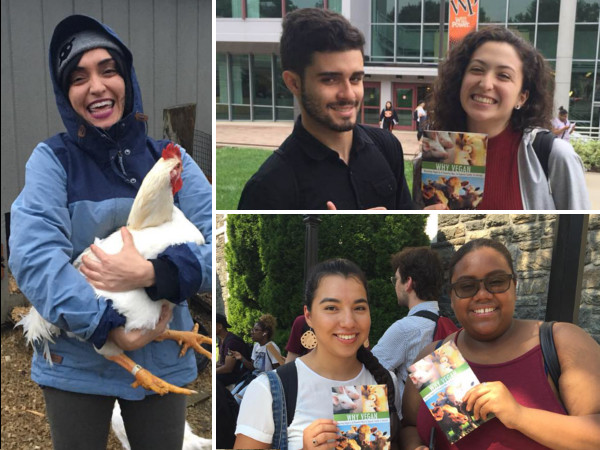 Sarai Garcia wrapped up her second semester of leafleting with Vegan Outreach, covering New York, New Jersey, and Connecticut. In the spring, she handed leaflets to 13,200 students at 26 schools, and now she's more than doubled those numbers! This fall, Sarai handed out 35,004 leaflets at 60 schools.
Sam Tucker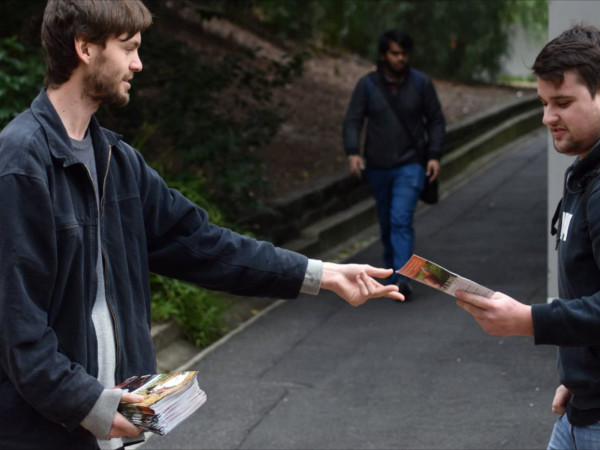 Sam Tucker has handed leaflets to 44,530 people throughout Australia and New Zealand, and he's shown virtual reality videos to 396. He's also helped develop leaflets for Australia outreach and was instrumental in creating and launching Vegan Outreach's 10 Weeks to Vegan program in Australia and New Zealand.
Carlos Yanez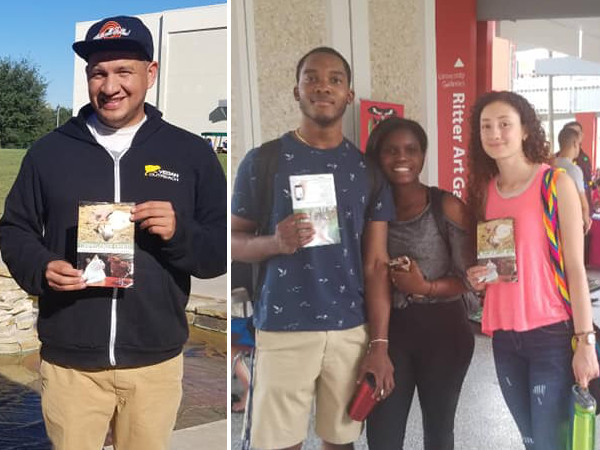 Carlos Yanez completed his first solo tour of the Southeast U.S. this semester. He set a personal record of handing out 1,756 leaflets at North Carolina State University on October 10th, and overall this semester he handed out 49,436 leaflets at 74 schools.
Richa Mehta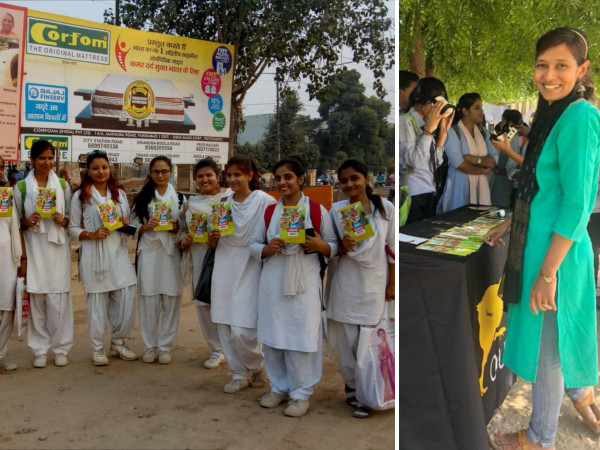 This was Richa Mehta's second semester with Vegan Outreach India. She handed leaflets to 24,775 people and showed virtual reality videos to 403. On top of that, she was instrumental in working with food companies to reduce their use of animal products and introduce vegan options.
Miguel Marron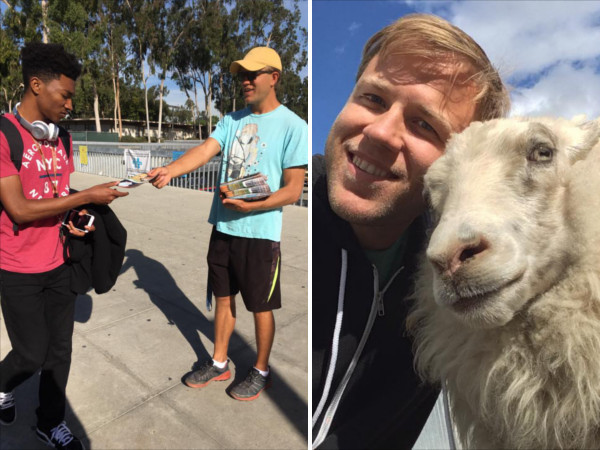 Miguel Marron received a Vegan Outreach leaflet at his college, then started an animal rights club, volunteered for Vegan Outreach, and is now an employee. He celebrated his 14th anniversary as a vegan in October, and we're celebrating that he handed out 44,818 leaflets and showed 330 virtual reality videos this fall!
Sarah Weldon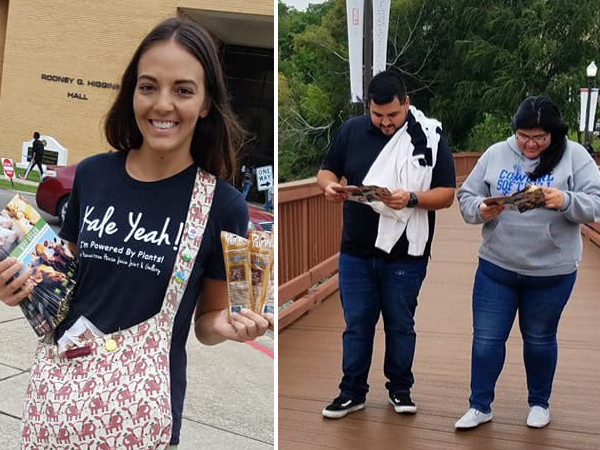 Leafleting in the southern U.S., Sarah Weldon uses her experience as a Marine Corps veteran and reformed hunter to relate to people who are initially resistant to the vegan message. As a result, she handed out 53,164 leaflets this fall and has had many hunters and farmers shake her hand and thank her for having a genuine conversation with them.
Brian Chavez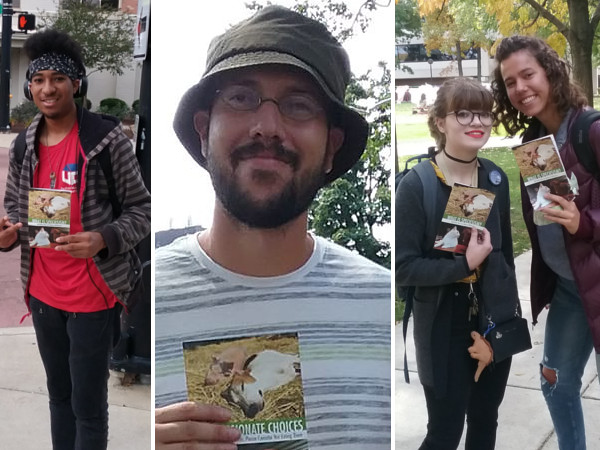 Brian Chavez [above, middle] started leafleting with Vegan Outreach in Southern California and has traveled all over the midwest U.S. to spread veganism. Brian leaflets heavily during class changes, then during slow times he takes the opportunity to have more meaningful conversations with curious students. As a result, he has handed out 58,643 leaflets on 55 campuses, and so many people have told him they're going veg!
Steve Erlsten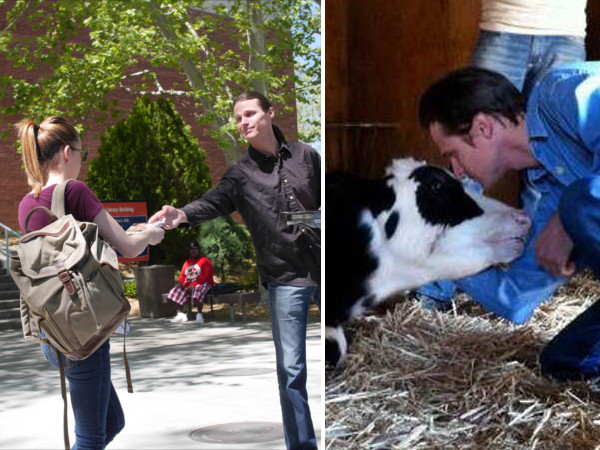 Last but certainly not least is Steve Erlsten. Steve began leafleting in an official capacity for Vegan Outreach in the fall of 2013—and he hasn't stopped since! While handing leaflets to 71,925 students this semester, he reached—and exceeded—his goal of personally handing out one million pro-veg leaflets! Congratulations, Steve, and thank you for your dedication!
These activists' work is far from flashy—they wake up early, lug heavy boxes, and remain on their feet for hours at a time. We're happy to be able to celebrate them any chance we get. Thank you for helping us do so! And thank you, of course, to the donors whose generosity made this work possible!
If you want to honor these activists and see Vegan Outreach do even more for animals next year, please consider making a donation by December 31st. It will be matched dollar-for-dollar for twice the impact!
Thank you!