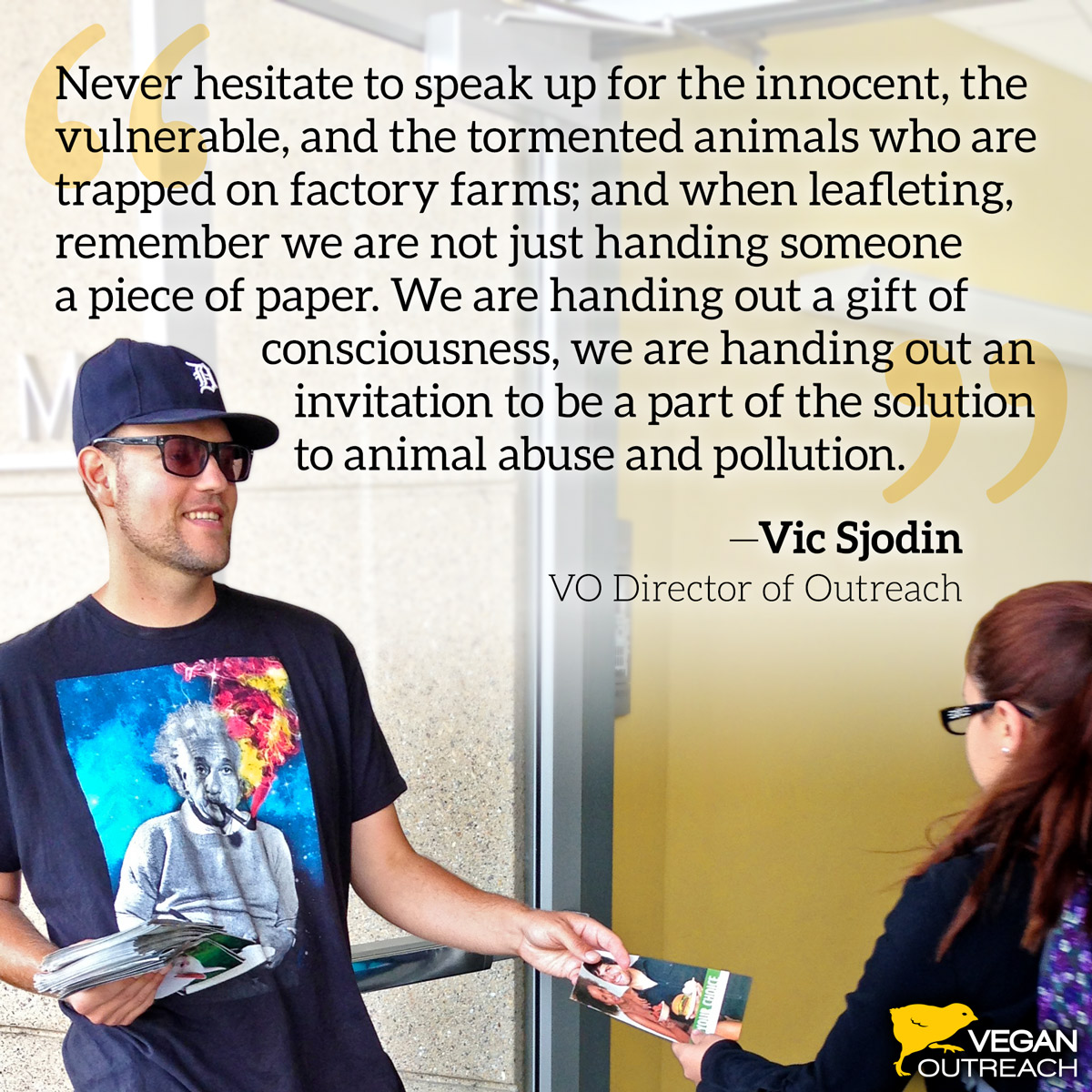 By Lori Stultz, Outreach Coordinator
With the fall semester right around the corner (or for you lucky students who are already in the full swing of attending classes and completing assignments), the Vegan Outreach crew wanted to send along a few helpful reminders for when you are taking a break from studying and getting out to leaflet! Whether it is your first time, or you cannot remember how many times you have leafleted, these tips can make a positive difference on the number of booklets you hand out!
These tips come straight from the experienced leafleting pros here at Vegan Outreach! And we recommend checking out a more extensive list of leafleting tips on our website.
The Best Time to Leaflet
Weekdays are best. 8 AM is usually the first class start time and it slows down around 3 PM. We realize 8 AM is early, but many of the larger schools are constantly leafleted / petitioned by other groups. Arriving early generally ensures that you will be the only group on campus and not have to compete for the students' attention.
And if you only have an hour or two, we recommend lunchtime (11 AM–1 PM). Some schools, including many community colleges, continue to have a flow of student traffic past 5 PM.
Permission
Some schools allow leafleting by outsiders, while others do not. Public universities are supposed to allow it according to federal court decisions, but some do not follow such rules and others try to limit leafleting by requiring that you register and limiting where you can stand.
If it comes down to it, many schools within cities provide a flow of students on public sidewalks where they can easily be handed a leaflet!
More info on the legal issues surrounding leafleting and what to do if you are stopped can be found on the page Legal Questions About Leafleting.
Where to Stand
At large schools, generally the most students will be found near the student union or library. However, it may be wise to try and find alternative spots to leaflet if the school is constantly leafleted or petitioned because students will be used to rejecting leafleters in these common spots.
At smaller schools, or schools that are not leafleted often, the busiest spots are often the best. Consider staking out a few different spots and rotating between them during busy class changes to reach the maximum number of new students.
Keep in mind that class changes yield the heaviest foot traffic. This is definitely your best time to make an impact!
While leafleting, it is best not to stay completely stationary. A wider walkway may require you to constantly walk back and forth, approaching as many students as possible. It is important to stand in the center of the walkway and not off to the side.
Keep in mind that traffic flow will be going in two directions. You will reach the largest amount of new students and avoid repeatedly asking the same students if you only leaflet one direction of the flow. If you are starting very early in the day, you can focus on students going to class or on to campus. If you are starting later in the day focus on students that are coming out of class and possibly leaving campus for the day.
What to Say
Vegan Outreach volunteers have found the following phrases to be effective:
Help animals
Info to help animals
Info on compassionate eating
Info against animal cruelty
Brochure against factory farming
Hello
Info about where your food comes from
Info on helping animals and the environment
Did you get one of these? (especially for tough crowds!)
For a great video explanation of successful leafleting techniques, check out Vic Sjodin's How to Leaflet? YouTube video.
Nervousness
Trust us, nervousness fades once you've offered the booklet to a few people. Don't be too concerned about knowing every tiny detail about factory farming, the most current investigation, or every philosophical argument for and against vegetarianism. The majority of students will simply accept a booklet and say thank you or decline a booklet and say no thank you anyway. Very few will engage you in conversation and even fewer will grill you on facts. If you don't know the answer to a question, it's much better to admit you don't know than to try and make up something you may have heard. The point is not to out-argue them but to get a booklet in their hands and for them to have a positive image of you as a person and your message of compassion.
Our Most Important Tip: Have Fun!
Remember that one person can make a huge difference! The people you pass information on to will likely pass information on to others, causing a chain reaction. Even better, if you have a buddy or two (or three or four) to get out and leaflet with you it will guarantee a larger number of people reached, and it will also make the time spent leafleting more enjoyable.
And don't think that smiling and appearing up-beat has to be an act! Leafleting can be, and generally is, a very rewarding experience! Who wouldn't smile knowing that you're making a positive impact for both animals and people alike?