As the Outreach Coordinators' leafleting tours come to an end, we'd like to acknowledge this semester's most prolific leafleters of Vegan Outreach's Adopt a College Program.
We've asked each of the top leafleters to share their favorite memory from this past semester—their stories will surely leave you feeling inspired!
If you missed Part I of this two-part series, get caught up here.
Alexis Clark, Outreach Coordinator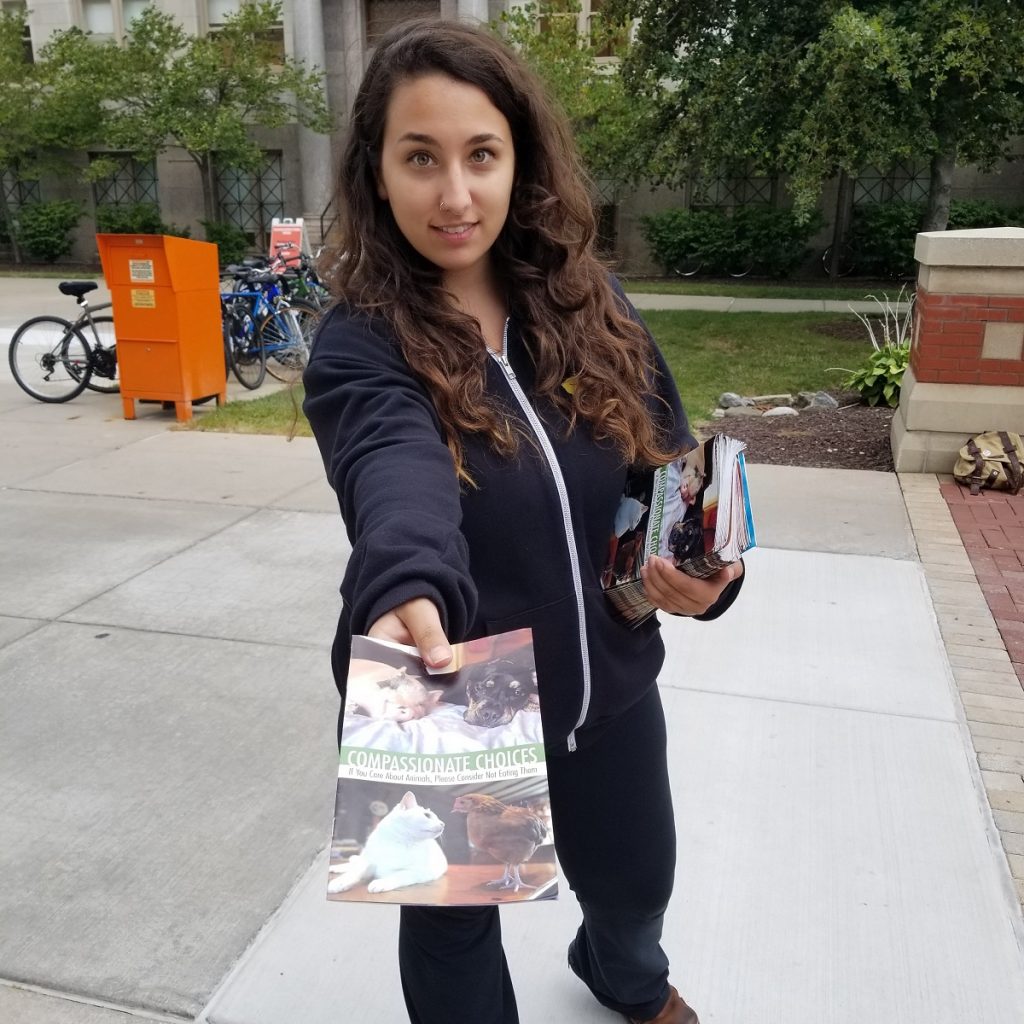 "The memory that really sticks out for me this semester was leafleting Onondaga Community College in Syracuse, NY. Not only was everyone incredibly friendly, but they were so interested in learning more about speciesism and veganism in general.
I had several engaging and unforgettable conversations with students, including one student I'm still in contact with today. I've given him a ton of resources, social media pages to follow, recipes, etc. He's working on his full transition to vegan living!"
Alexis leafleted at 63 schools this semester and distributed 41,685 leaflets.
Jevranne Martel, Outreach Coordinator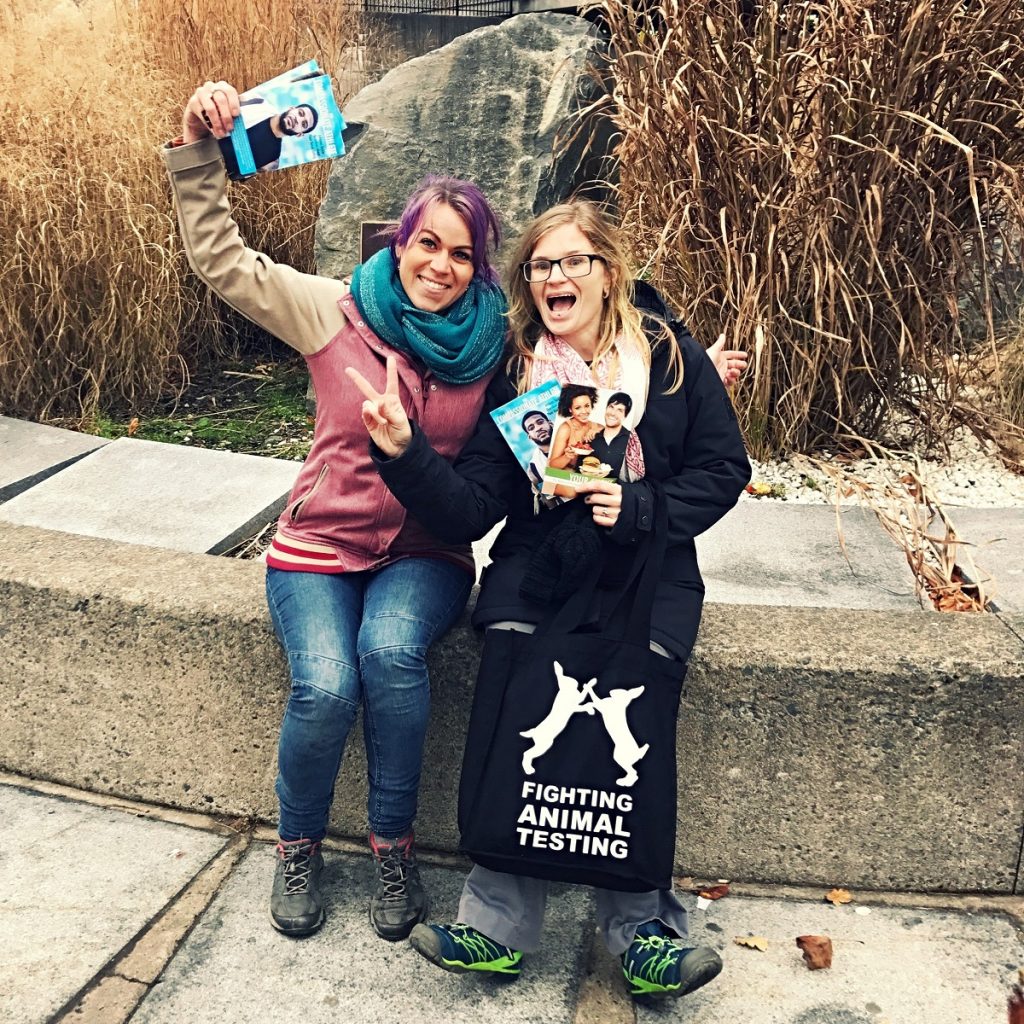 "One memory that stands out was an interaction I recently had on Prince Edward Island. When I arrived in Charlottetown, I headed downtown to do outreach. I handed information to two younger gentlemen who quickly turned around to ask for more information. They were really excited to see activism happening on the island because they'd been learning more about these issues.
One of them not only wanted to go fully vegan but also wanted to get more involved and do activism. We had a wonderful, detailed conversation. I'm certain he will be an amazing activist for the animals!"
Jevranne leafleted at 58 schools this semester and distributed 32,695 leaflets.
Rachel Shippee, Outreach Coordinator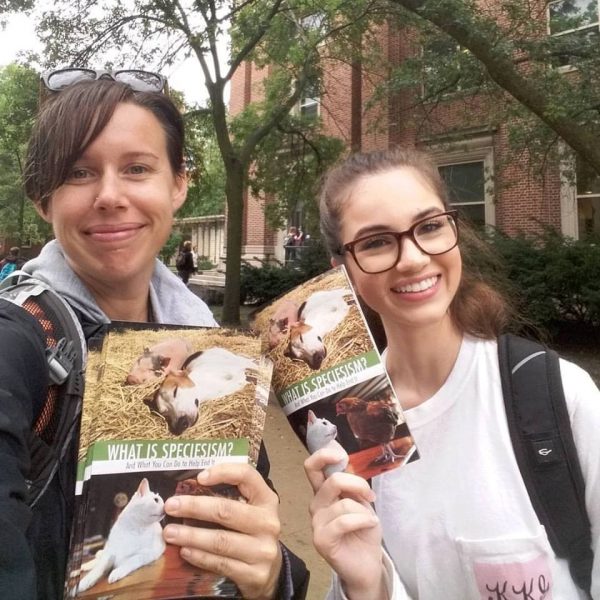 "My favorite memory is from the first day of the semester when I leafleted at the University of Iowa. I met a student, Breanna, who stopped to let me know she went vegan after receiving a Vegan Outreach booklet last year. We also had a great team of volunteers that day and handed out over 4,000 leaflets! It was a great start to the semester."
Rachel leafleted at 33 schools this semester and distributed 39,499 leaflets.
Sam Tucker, Australia Outreach Coordinator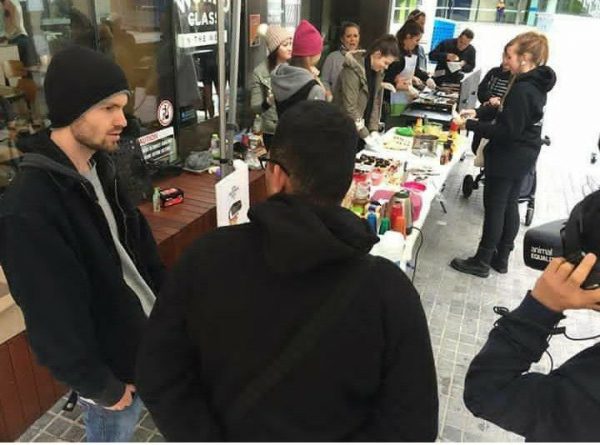 "My favorite day of outreach this semester was at Victoria University, in Melbourne, Australia. Vegan Outreach, Animal Activist Collective, and Truth Riders all worked together to support the launch of the Victoria University Vegans club.
We handed out 1,100 leaflets and about 30 people watched Animal Equality's iAnimal Virtual Reality. We showed videos on TV screens, wrote chalk messages, plastered the campus with posters, fed countless students delicious vegan food, had in-depth conversations about reducing consumption of animal foods, and nearly 100 people signed up to join the new vegan club on campus!"
Sam leafleted at 34 schools this semester and distributed 55,723 leaflets.
A huge congratulations to these Outreach Coordinators and those highlighted in Part I.
And a big thank you to all of Vegan Outreach's supporters—who directly fuel our work—Outreach Coordinators, and volunteers! Because of you, many animals will be spared a life of suffering.
Donate in honor of a leafleter today to keep their work going.