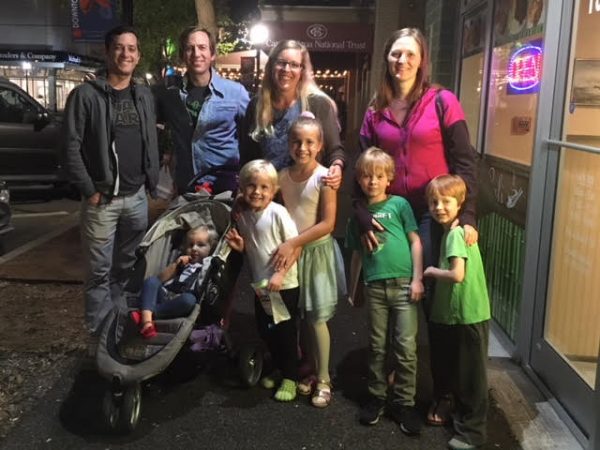 A few months ago, we featured Sunny and Elizabeth—two women who formed a close friendship after being connected through Vegan Outreach's Vegan Mentor Program (VMP).
Today, we bring you a story of two families who, similar to Sunny and Elizabeth, became good friends after being introduced through the VMP. In this interview, we'll meet both families, hear about their paths to veganism and the role the VMP played in bringing them together. Most importantly, we'll see pictures and get the tasty details about their Thanksgiving holiday, which they celebrated together in sunny Florida!
Tell us about yourselves and your families.
Natalie Mindrum: My name is Natalie Mindrum. I work in the airline industry overseeing a real estate portfolio that includes the New York City region. My husband, Adam, is a fellow vegan, and we have two vegan kids, ages 7 and 5, and two vegan rescued canine companions, Leyla, a beagle-mix, and Stuart, a Rhodesian Ridgeback/Pitbull mix.
Kristine Casart: My name is Kristine Casart, and I'm a full-time mom of three vegan kids, ages 9, 6, and 2. My husband, Tim, and I also take care of our vegan beagles Leif and Lars. I'm also very excited about this project that I just started called Mom Vegan Love. So far I have a Facebook page and Instagram. I try to show people how fun it is to be vegan.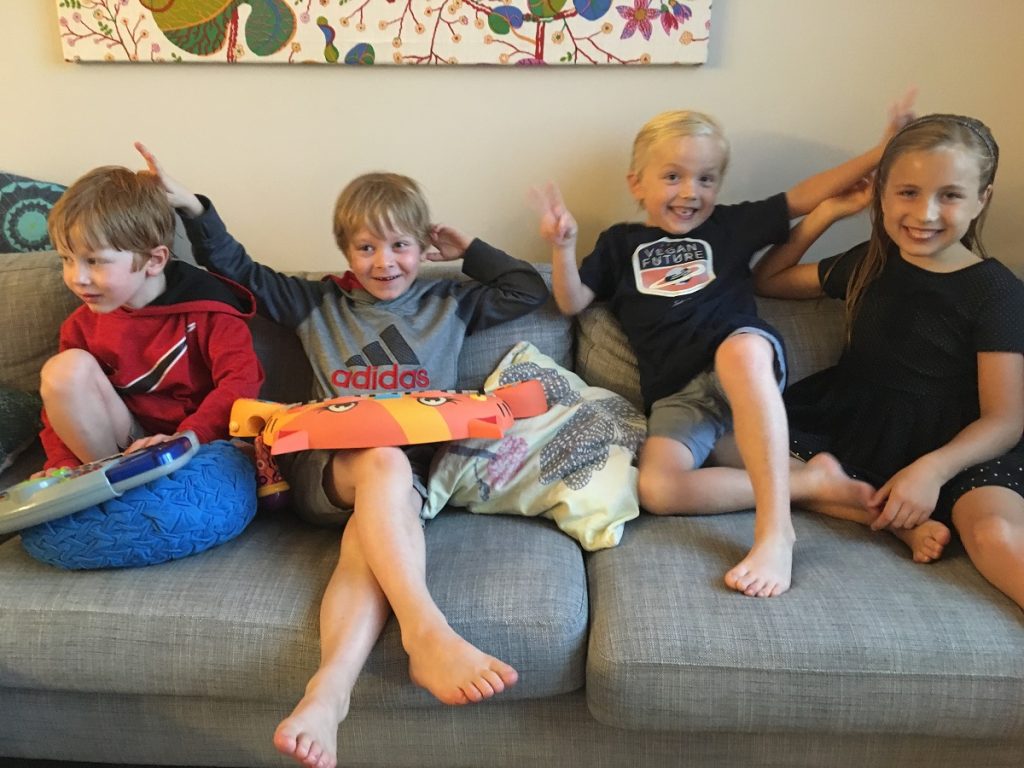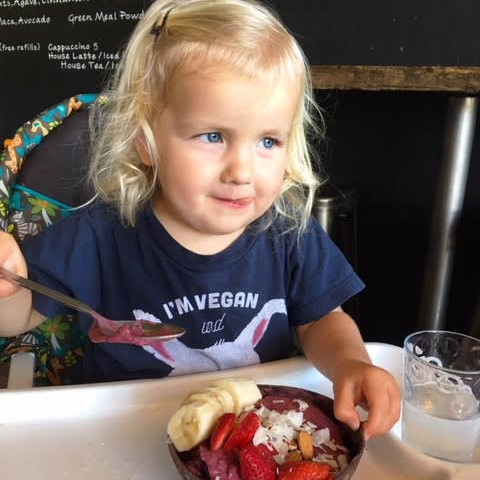 What were your respective vegan journeys like?
Natalie: I became vegan back in 2007. I read a book by E.O. Wilson called The Diversity of Life, which got me thinking about how similar humans are to the animals on our plates. Then I saw Earthlings and the rest was history. My boyfriend, now husband, was a bit resistant in the beginning, but now he's been vegan for nearly a decade, too—for the animals. I decided to become a mentor for Vegan Outreach's VMP because I wanted to meet fellow vegans and I was interested in helping people who were trying to go vegan.
Being matched with Kristine and her family, who lived just a few minutes away from us, was more than what I could have hoped for from the program! It's led to what I hope will be a life-long friendship!
Kristine: I first watched Forks Over Knives about four years ago and wanted to go vegan overnight for health reasons. My husband was not quite ready at the time, and we started by transitioning to a vegetarian diet. About 2 ½ years ago we watched Earthlings together. We completely made the connection and went vegan for the animals that day.
I absolutely love us as vegans! Getting rid of asthma, allergies, low immune systems, and stomach issues has led us to enjoy life to the fullest. Opening our hearts to live according to our core values and letting love and compassion be our guide is just amazing. Our only regret is not having gone vegan sooner.
We do feel like the odd couple on the block sometimes though, ha ha. After a trip to California 1 ½ years ago, where vegan felt so much like the norm, I felt the need to find like-minded people closer to home. Meeting Natalie and her amazing vegan family has been just what we needed. We definitely feel like this is the beginning of a life-long friendship, and we're so grateful to Vegan Outreach for setting us up.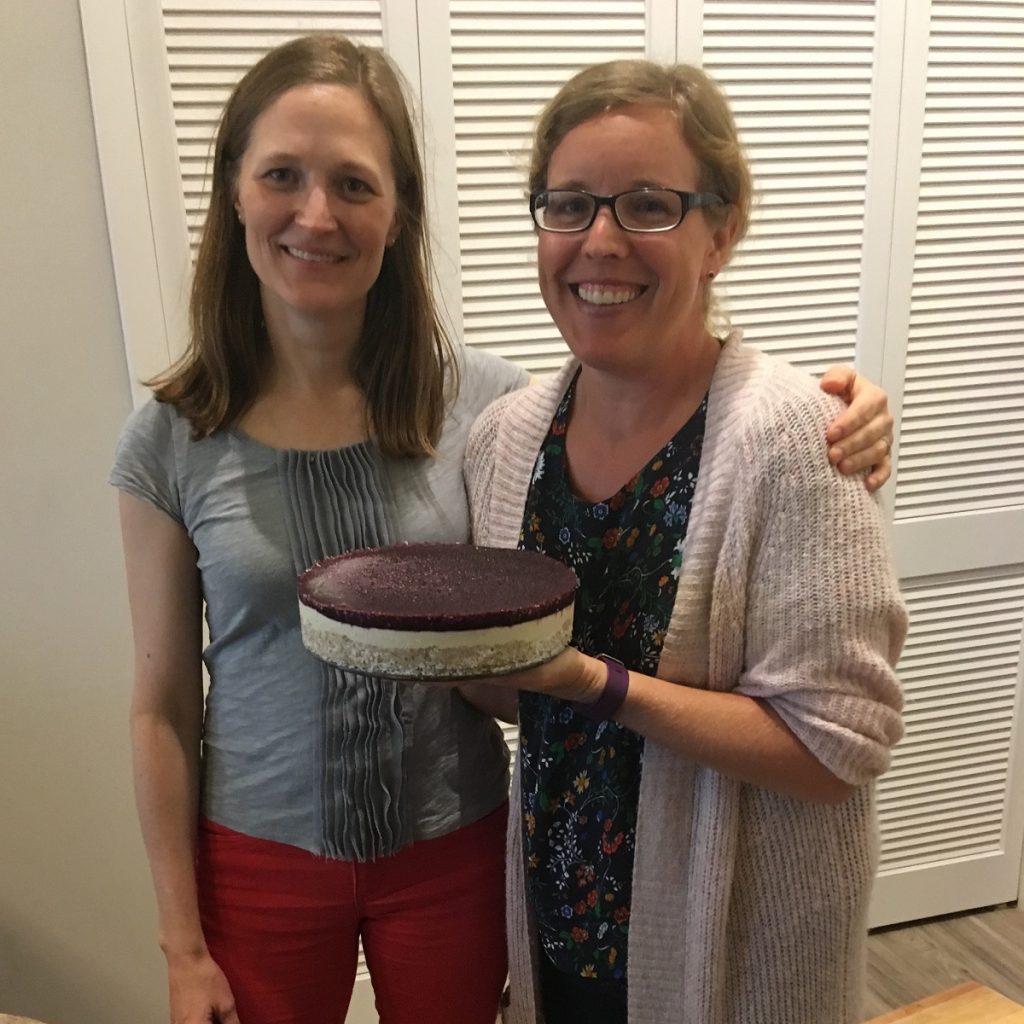 Kristine, you just moved from Illinois—where you and Natalie met—to Florida. Have you two been able to spend time together since relocating?
Kristine: Yes! We all celebrated Thanksgiving together last year back in Illinois. Natalie and her family cooked an absolutely amazing meal for all of us, which I still dream about. We were thrilled when they could come down to Florida this year so we could return the favor. We had so much fun!
Give us the scoop on your Thanksgiving!
Natalie: Tim and Kristine are amazing cooks! I'm always telling them that they need to open a restaurant. We felt so excited to get to hang out with them in sunny Florida and eat their incredible food. I'm still thinking about the carrot lox and blueberry cheezecake.
Kristine: We had so much fun during their stay. Feels like a dream, truly something to be thankful for!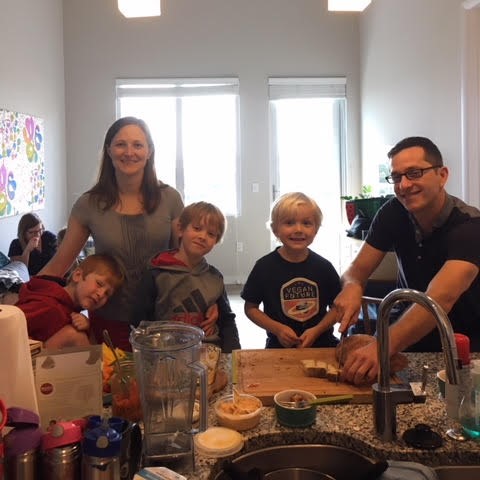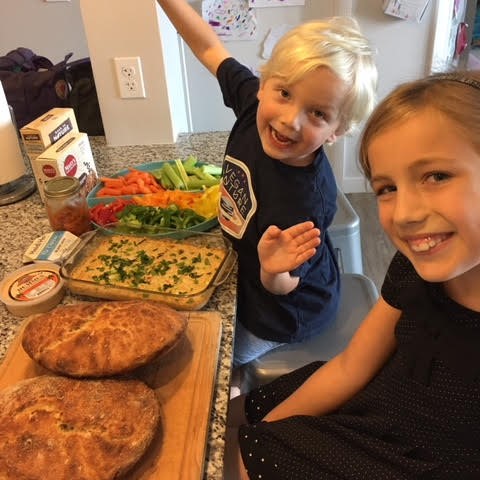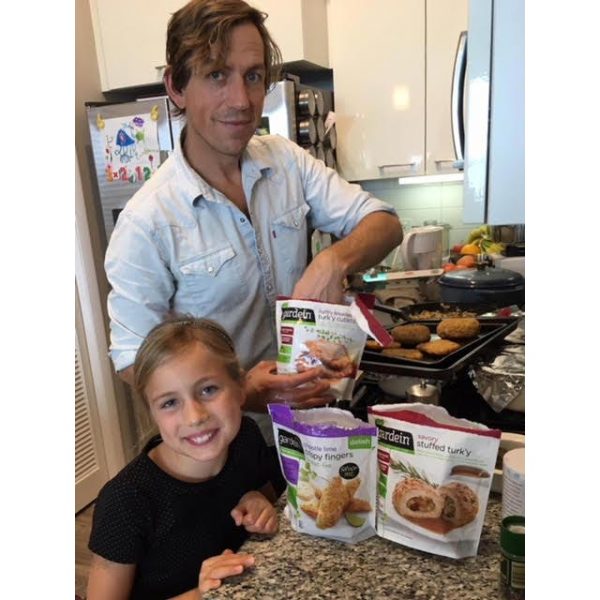 If you could offer one piece of advice to an aspiring or new vegan, what would it be?
Natalie: Remember that veganism isn't about your own personal purity—it's about reducing animal suffering. In the beginning, just do your best and don't beat yourself up if you make a mistake. Remember to be compassionate to your fellow humans too, including yourself!
Kristine: Make the connection to where your food comes from—watch documentaries. Finding out that plants have plenty of protein and the health benefits of a plant-based diet made it possible for me to finally pull down the veil and make more compassionate choices.
Just take it one meal at a time and have fun! We love Pinterest for recipes—just type in whatever you'd like to eat and add the word Vegan. There are so many delicious options at your fingertips. Sign up for a mentor through Vegan Outreach, the support and companionship is amazing.