As the Outreach Coordinators' leafleting tours come to an end, we'd like to acknowledge this semester's most prolific leafleters of Vegan Outreach's Adopt a College Program.
We've asked each of them to share their favorite memory from this fall—hearing their stories will definitely leave you feeling inspired. Let's get to it!
John Deetjen, Outreach Coordinator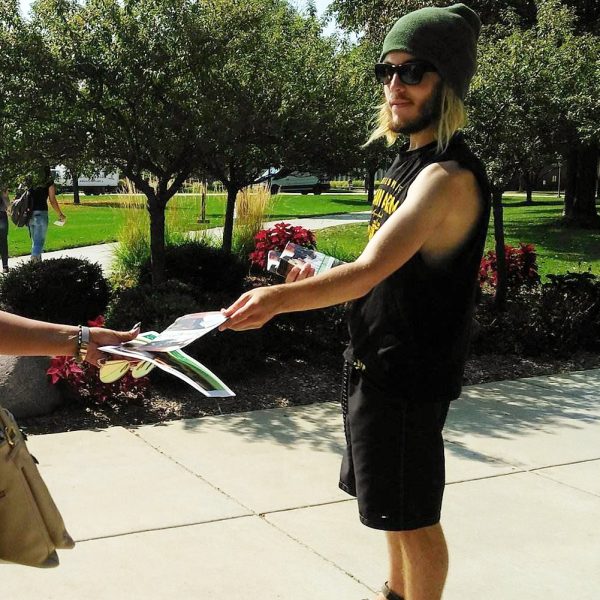 "It's difficult to pick one specific interaction—there were many things that made this semester great. It was really encouraging to hear students talking in mass about the concept of Speciesism—thanks to our new booklet.
It was also cool hearing from so many students who are very close to going vegan, and it's great to provide them with the resources on how to do it. One student at College of Dupage even called our resources the, 'Answer to her prayers.' She'd been wanting to go vegan and now she is confident she can."
John leafleted at 88 schools this semester and distributed 75,318 leaflets.
Steve Erlsten, Northern California Outreach Coordinator
"Meeting Gisella at Contra Costa College was a great reminder that some people need extra encouragement to put their compassion into action. She'd been vegetarian for about 18 months and was excited about the information in the Guide to Animal-Free Eating I gave her. By the end of our conversation, she was confident that she could go vegan and stay vegan!"
Steve leafleted at 89 schools this semester and distributed 72,304 leaflets.
Kimberly Moffatt, Outreach Coordinator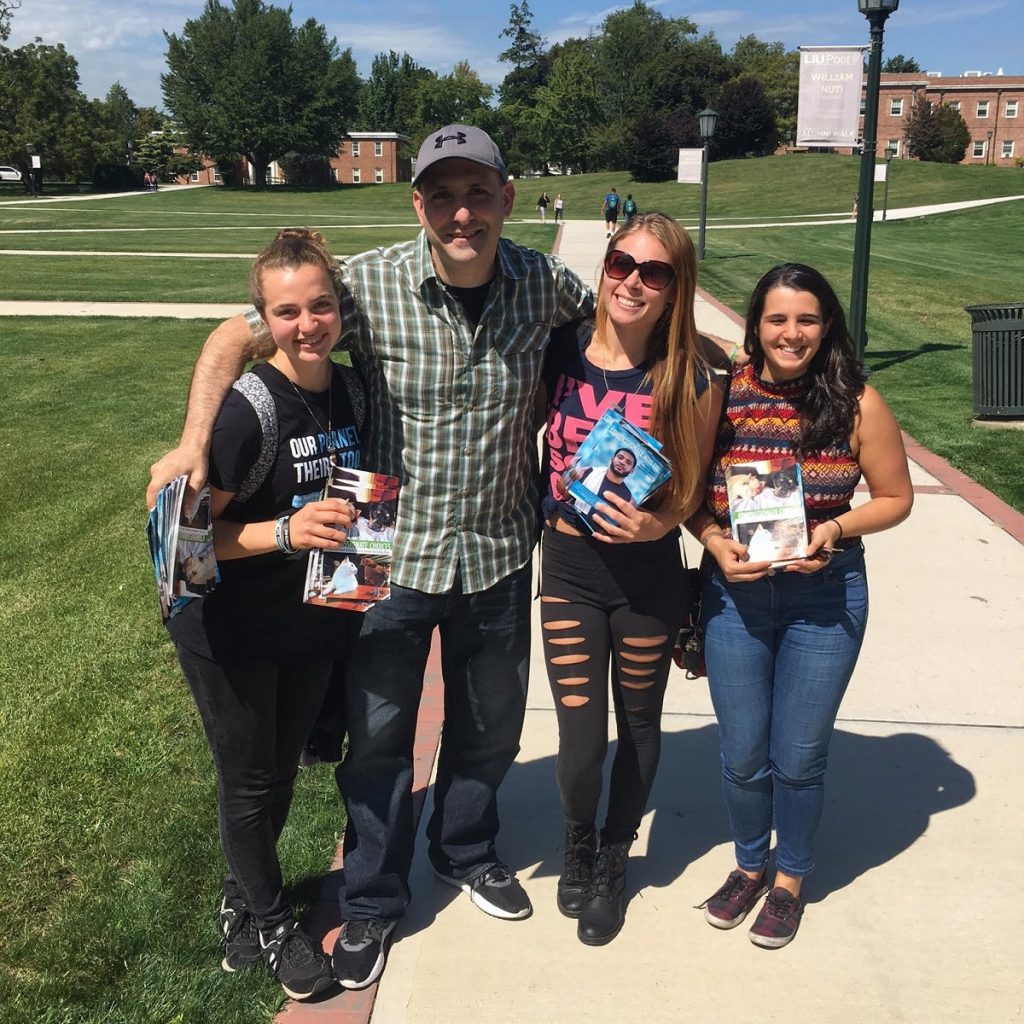 "My favorite memory from the semester was when I leafleted with volunteers at Nassau Community College. Altogether we spoke to about 20 people—students, faculty and security guards—who were either interested in going vegan or reducing their animal food product consumption. We talked to people who'd tried going vegan once and wanted to try again, and everything else in between. I told them how they could text and receive our Guide to Animal-Free Eating and explained VO's mentor program."
Kimberly leafleted at 58 schools this semester and distributed 35,350 leaflets.
Miguel Marrón, Outreach Coordinator
"Last week I was leafleting at Riverside City College, and I talked to a student who received a booklet from VO one year ago. She's been vegan ever since."
Miguel leafleted at 41 schools this semester and distributed 46,136 leaflets.
Emmanuel Márquez, Mexico Outreach Manager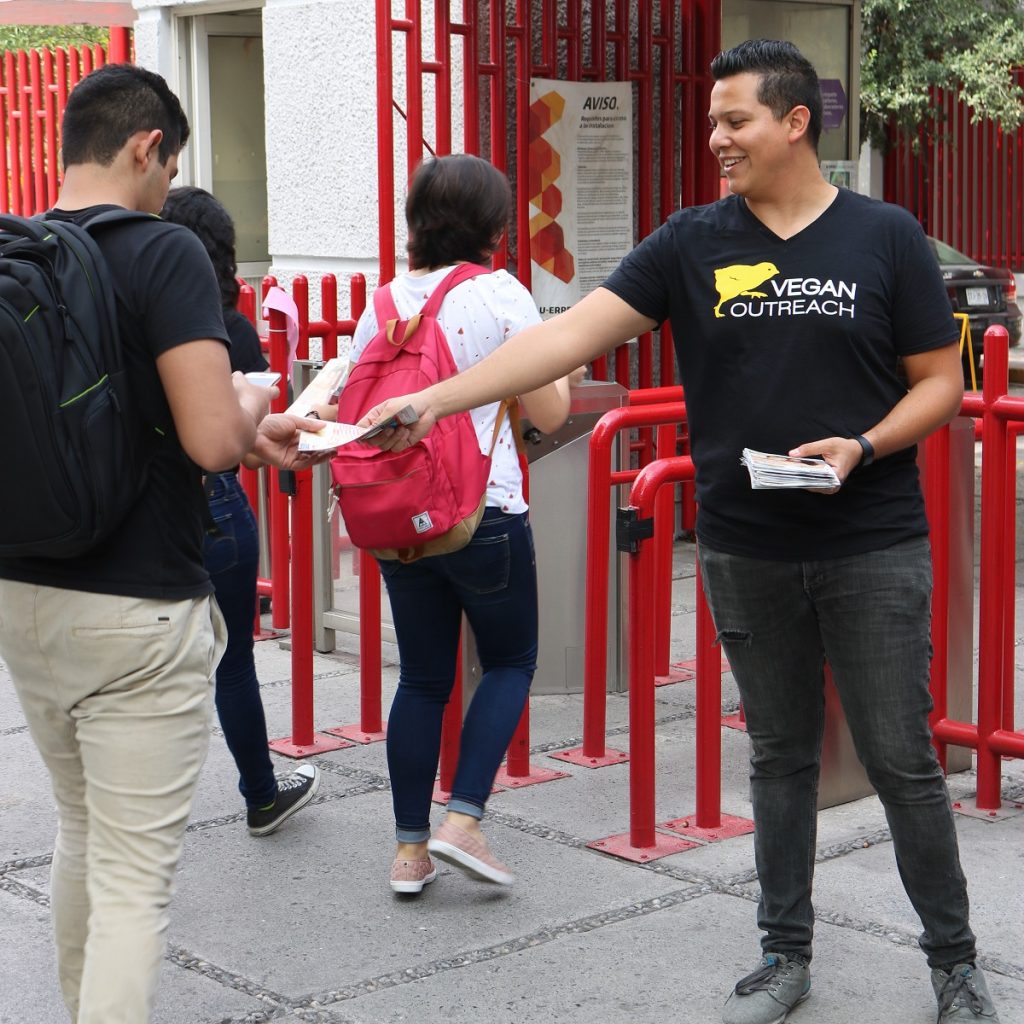 "My favorite outreach moment this semester was at the Universidad Regiomontana in Monterrey, Nuevo León, MX. While tabling, I met Patricia. She learned how cows are treated in dairy farms while viewing Animal Equality's iAnimal Virtual Reality.
After watching the 360 footage, she told me she felt good for not taking part in that system anymore. She attended a Humane Education presentation I did last semester, and after that she gave up dairy. She shared that using iAnimal made her desire to avoid dairy stronger and motivated her to keep moving forward to always eat vegan."
Emmanuel leafleted at 62 schools this semester and distributed 47,674 leaflets.
Yuri Mitzkewich, Southeast Outreach Coordinator
"One of my favorite memories this fall was our visit to Florida Southwestern State College. We had a lot of great conversations—the interest in our message is heavy at community colleges and small universities because students rarely get information shared about veganism. That is one of the more important functions I feel VO does to spread the message about animals."
Yuri leafleted at 85 schools this semester and distributed 70,909 leaflets.
Read Part II for another round of inspirational stories from more of the Fall '17 top leafleters!
Donate in honor of a leafleter today to keep their work going.