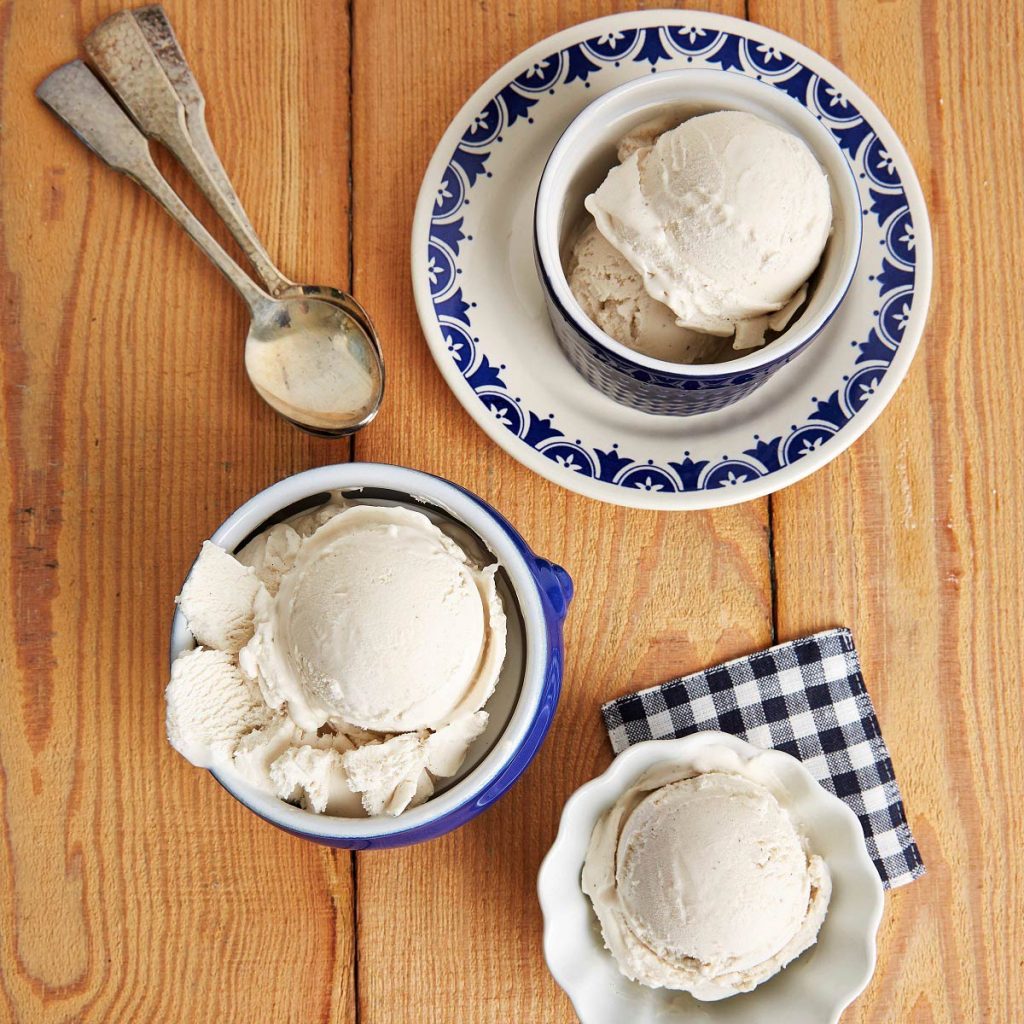 You may remember the delicious Down-Home Seitan Fried Chicken recipe we shared a few weeks back, courtesy of our friends Jenny Engel and Heather Bell—the women behind Vegan 101!
Guess what? They're back again with another wonderful recipe to share! This Vanilla Bean Ice Cream recipe couldn't have come to us at a better time since we're headed into the warm months of summer.
Vanilla Bean Ice Cream
Yields 1 quart.
Ingredients
2 ½ cups soy milk creamer
¼ cup brown rice syrup
½ cup evaporated cane sugar
3 tablespoons arrowroot powder, dissolved in 3 tablespoons soy milk creamer
1 vanilla bean, split lengthwise
⅛ teaspoon sea salt
¼ teaspoon vanilla extract
Directions
Heat a small saucepan over medium heat. Add creamer, brown rice syrup, and sugar. Heat until sugar is dissolved, about five minutes. Add arrowroot mixture and stir until thick.
Add seeds of vanilla bean pod by scraping small seeds out with the side of a paring knife. Stir well to incorporate seeds into the mixture. Remove from heat.
Add sea salt and vanilla extract to milk mixture. Whisk to combine.
Let mixture cool completely, about 30 minutes on the counter, then 30 minutes to one hour in the refrigerator.
Transfer mixture to ice cream maker and process according to directions, about 30 minutes or when desired consistency is reached.
Recipe Tips and Variations
Be sure to put your ice cream maker's freezer bowl in your freezer at least 24 hours before making ice cream.
You'll find arrowroot powder in most health food stores. You may see a small jar in the spice section, but keep looking for a big bag near the flours in the baking aisle. Getting a larger quantity will save you some dough and you'll have a big supply ready to make ice cream anytime.
Jenny and Heather, are co-owners of Los Angeles-based vegan cooking school Spork Foods, which travels to universities, health care companies, hotels, markets, and restaurants all around the world to teach chefs how to prepare tasty vegan meals.
You can learn more about Spork Foods and Jenny and Heather's cookbook on Facebook, Instagram, and Twitter.