By Lisa Rimmert, Director of Development, and Taylor Radig, Campaigns Manager
In our last blog post, we shared some great ways to eat vegan in Belize. In this post, we'll tell you some of our favorite activities in the country. You've probably guessed already that most of them involve animals. Sometimes it's difficult to take animal-centered excursions without participating in their commodification or exploitation, so we want to share with you some of our animal-friendly Belize adventures. Let's go!
Taylor Radig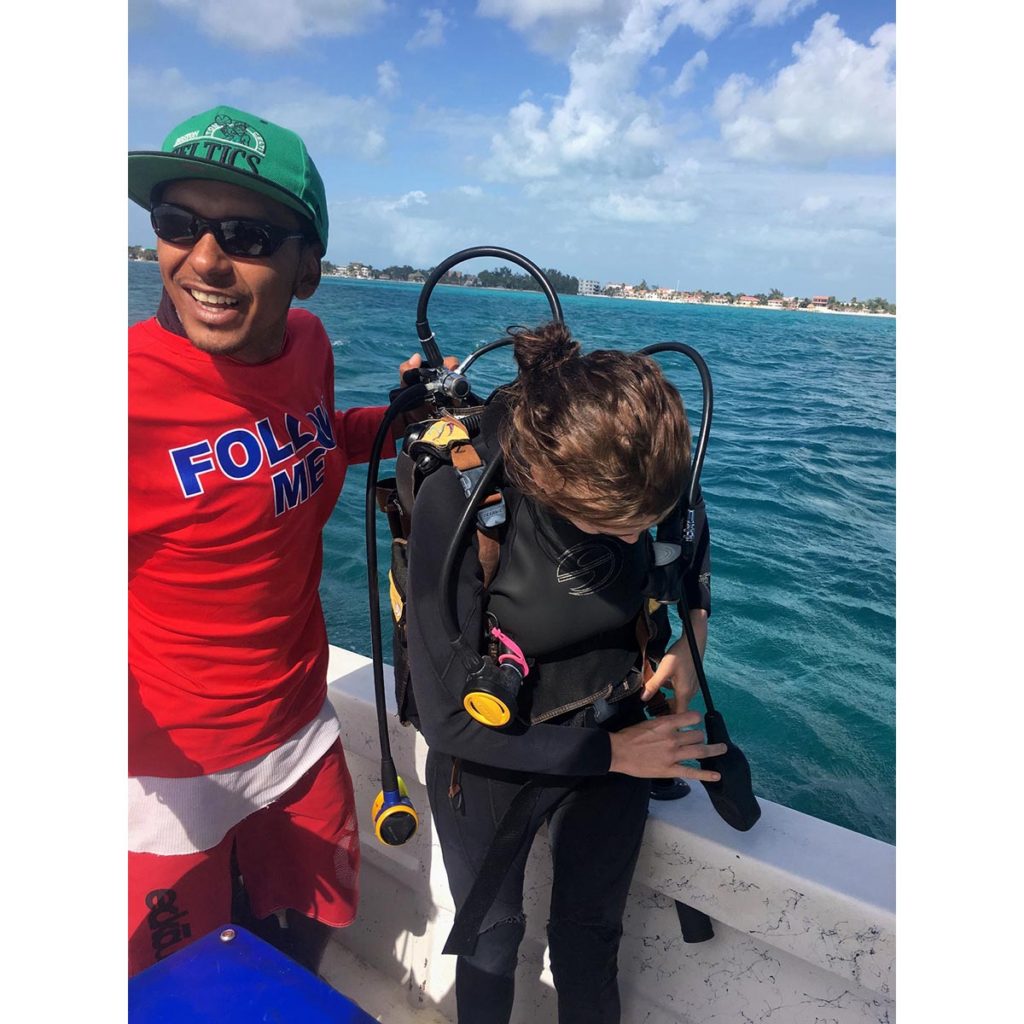 Shortly after booking our trip to Belize, my partner, Ezra, and I decided to get scuba certified, which ended up being our favorite part of our trip. Although we had taken a scuba diving course and practiced in a pool, it was our first time going deep into the ocean. We were lucky to find an awesome dive shop on Ambergris Caye island that had incredible divemasters that helped ease our nerves. It only took one dive and we were hooked! We saw amazing schools of fish, turtles, and stingrays that our divemasters pointed out to us through underwater sign language we learned.
On our second dive, our divemaster called us over to a small sunken ship to show us a nurse shark that was sleeping inside. He later explained that the shark was well-known among local divers and the ship was his regular napping spot. He preemptively warned that we may see nurse sharks, but reassured us that they keep their distance and aren't dangerous.
During one of our dives, two playful nurse sharks were swimming so close to us that Ezra brushed up against one. Other than your regulator that helps you breathe, it's almost dead silent underwater, so we had to keep our eyes open to ensure our fins didn't hit them.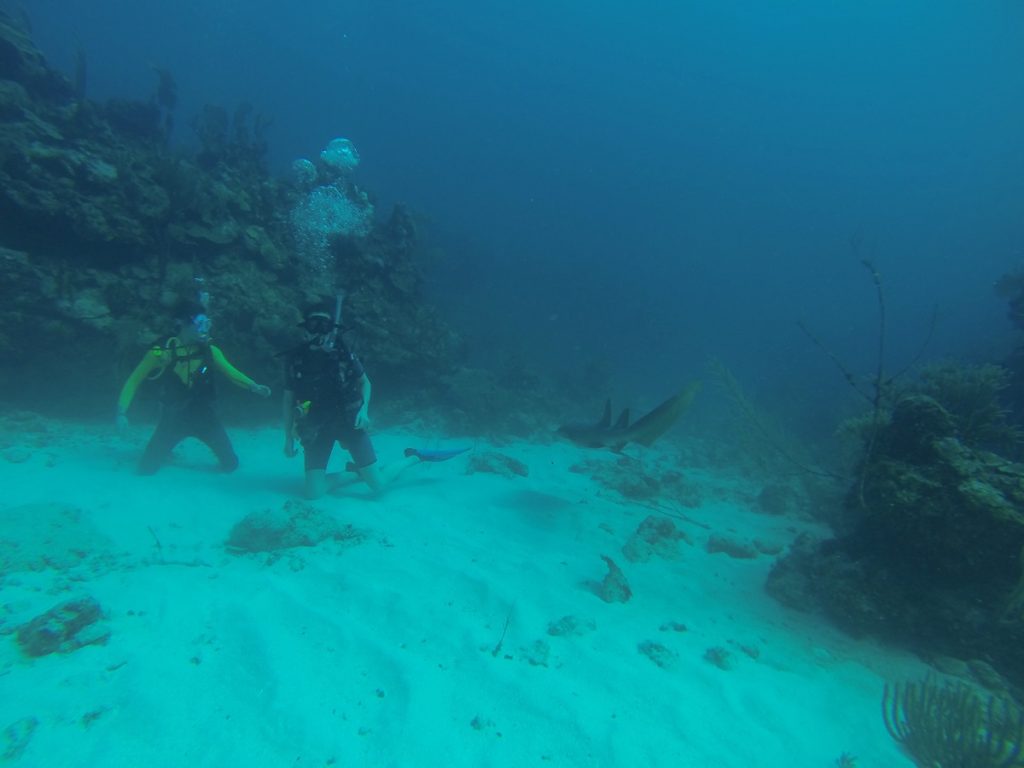 To get a more holistic feel for Belize, we rented a car to travel further inland to Belmopan. We booked a cave kayaking trip with a local family-owned business called Maya Guide Adventures. When our guide Marcos got out to put his car into four-wheel drive, we knew we were in for an experience. The trek took us through an hour of rough terrain alongside the rainforest until we got to a river that led us through the rainforest and into the caves. Marcos took us through three different caves and told us how he had discovered parts of them over the years through his cave exploring hobby.
In a few parts of the caves, the water levels had gotten so high that we had to get off our kayaks and squeeze between the walls of the cave one by one. Being in a dark cave with bats, only a headlamp for light, and then maneuvering my way through tight spaces definitely pushed me out of my comfort zone, but boy was it worth it!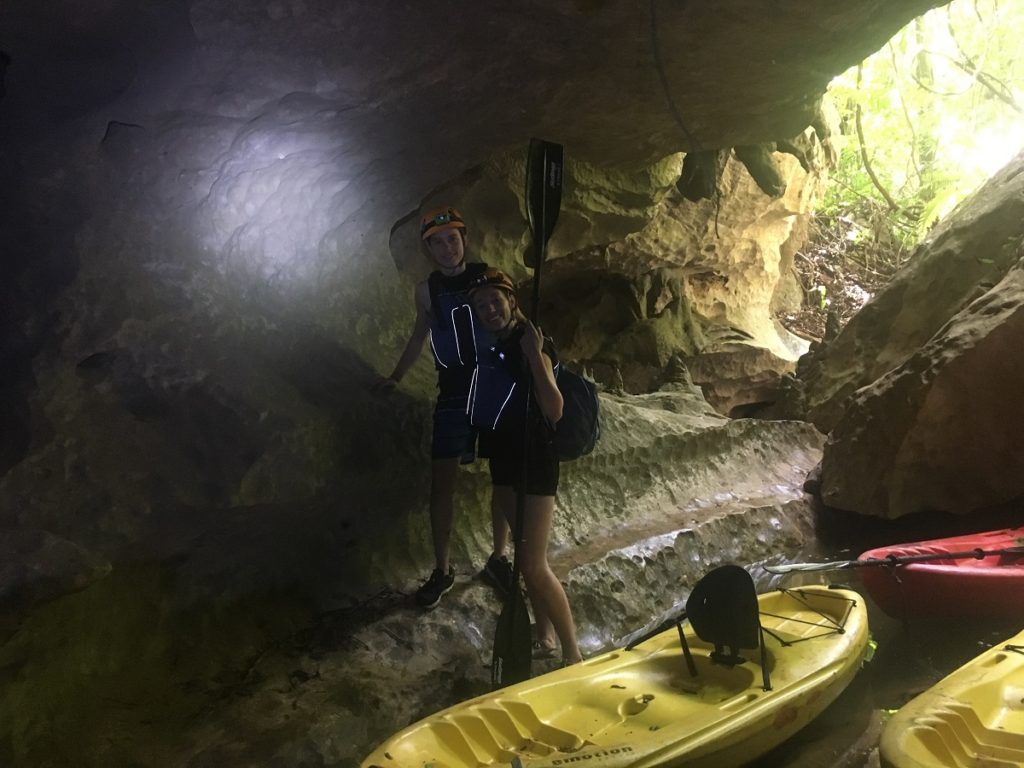 At the end of our trip, Marcos was kind enough to bring us vegan burritos with homemade tortillas his family made. We shared some BBQ jackfruit we brought with Marcos and he loved it! On our way back, we ended up getting the truck stuck in a mud pit in front of some members of an Amish community, which actually turned out to be another fun adventure. Marcos even let me use his machete to cut dried brush to push under the truck's wheels to get traction. Finally, a kind local who worked on the farm came with a tractor and pulled us out.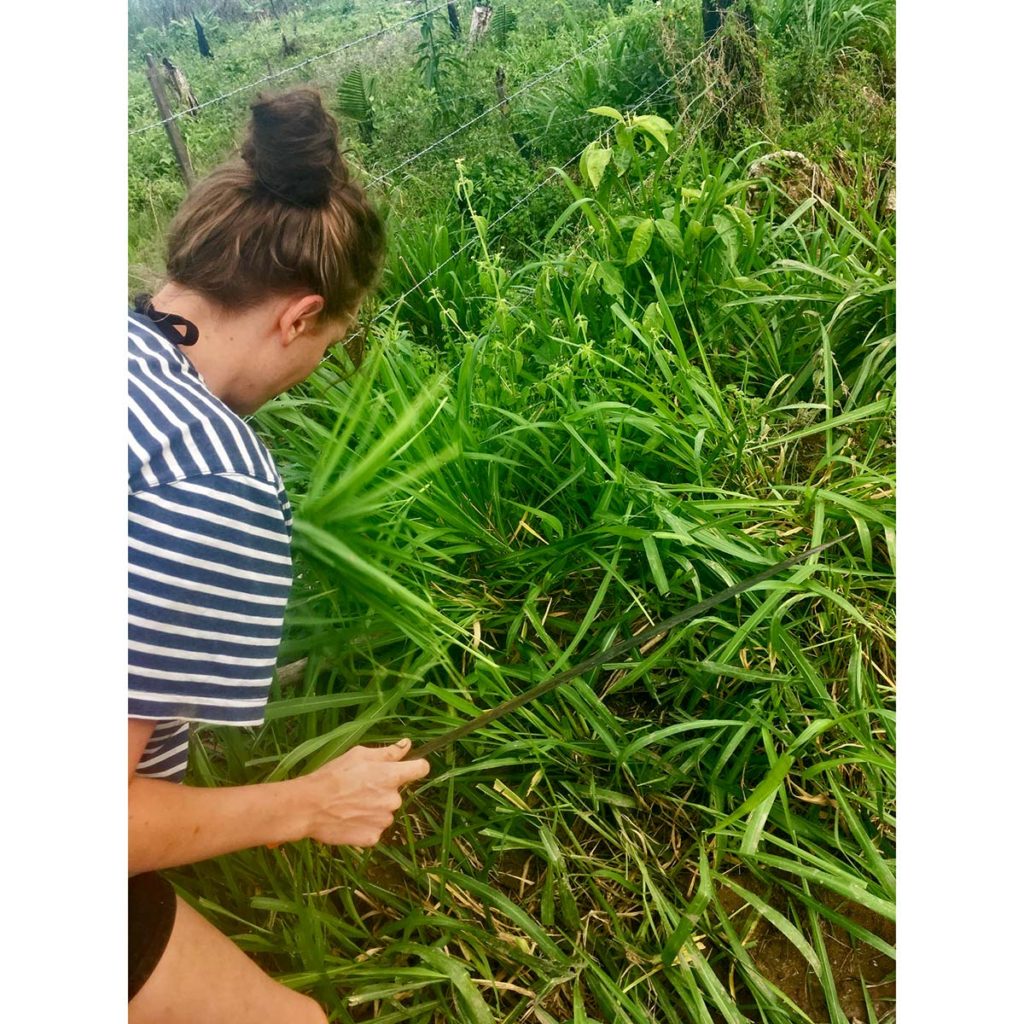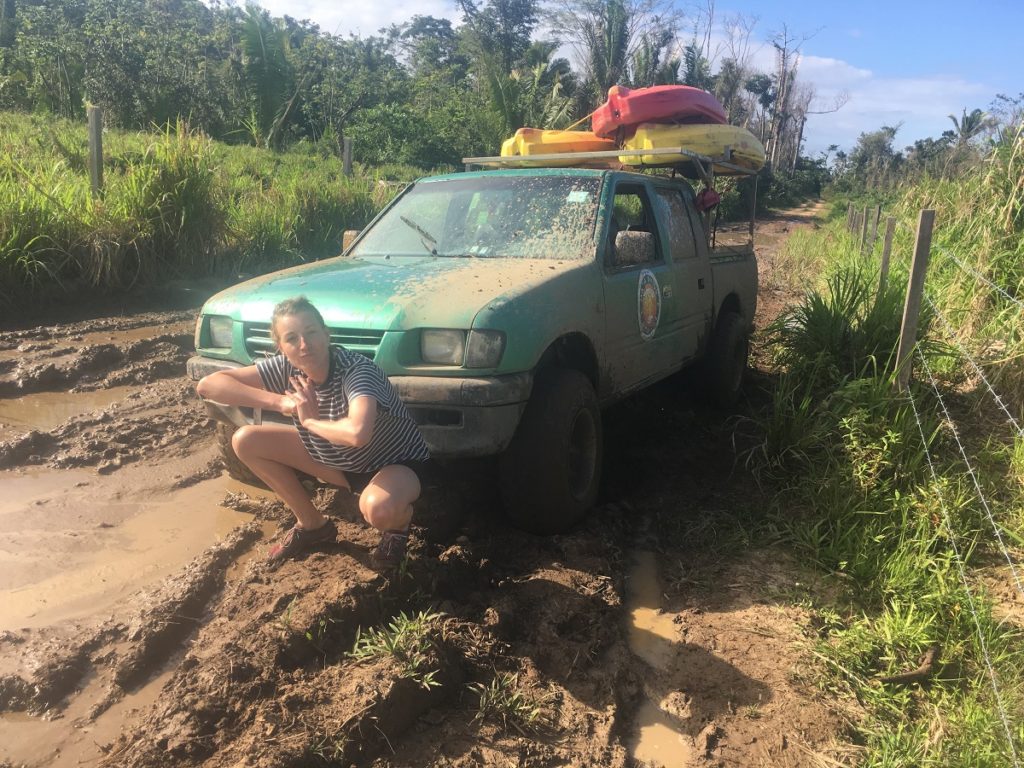 Lisa Rimmert
One of our top priorities in Belize was to see howler monkeys, and it was frustrating to keep seeing the zoo recommended on every travel website. Luckily, about an hour north of Belize City there's a howler monkey sanctuary, also known to locals as the Baboon Sanctuary—though the inhabitants are indeed howler monkeys, and "baboon" is just an affectionate name the locals call them.
My husband, Brad, and I, entirely by accident, ended up visiting the sanctuary at the perfect time—around 9 am. Many cruise ship groups come for tours later in the day, and the monkeys are less interested in engaging as the day goes on. Since we arrived early, we had the privilege of seeing our tour guide, Royce, call the monkeys down and having them eat fruits from our hands. It was incredible being that close, having them grab our hands, and watching them travel through the trees.
Royce and his family help take care of the sanctuary, which is basically a network of citizens who have agreed to protect the monkeys from threats like deforestation. What I loved about the sanctuary—and Royce in particular—was that he worked with a family of monkeys for seven years to gain their trust without being intrusive. They did things like build rope bridges from tall trees to shorter trees and shrubs, so the monkeys could access certain fruits without having to travel by land (as they prefer to stay in the trees). The family of monkeys we fed is the one trusting enough of humans to come eat out of our hands, but Royce said it's a very rare situation and when the matriarch dies the trust will probably die with her. We felt incredibly lucky to experience them up-close, and we'll never forget it!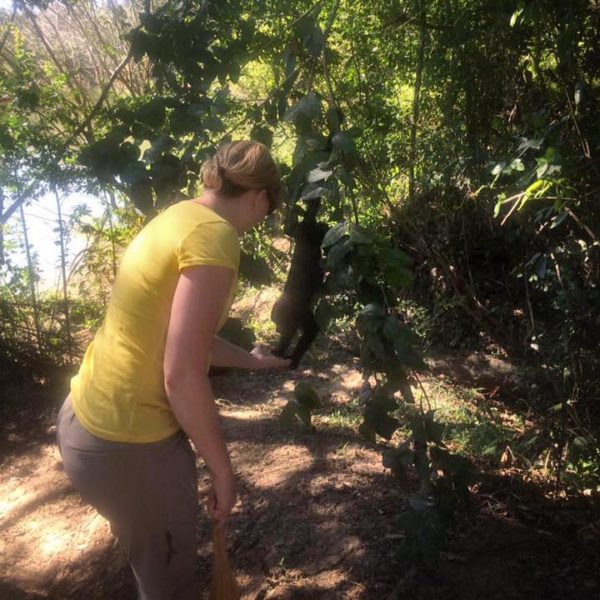 There are street dogs all over Belize, which was sometimes difficult to see. On Caye Caulker, an island off the east coast of Belize, there's a man named Kenny who runs the Caye Caulker Animal Shelter. It's a small, one-person operation, but Kenny does wonderful, much-needed work to rescue and house animals. I read online that visitors can walk dogs, so, of course, I added that to our agenda! At sunset, we visited Kenny's place—the backyard of what I think is his house—and took a cute brown pup out for a walk around the beaches. It was fun for us and gave the dog some exercise—win-win!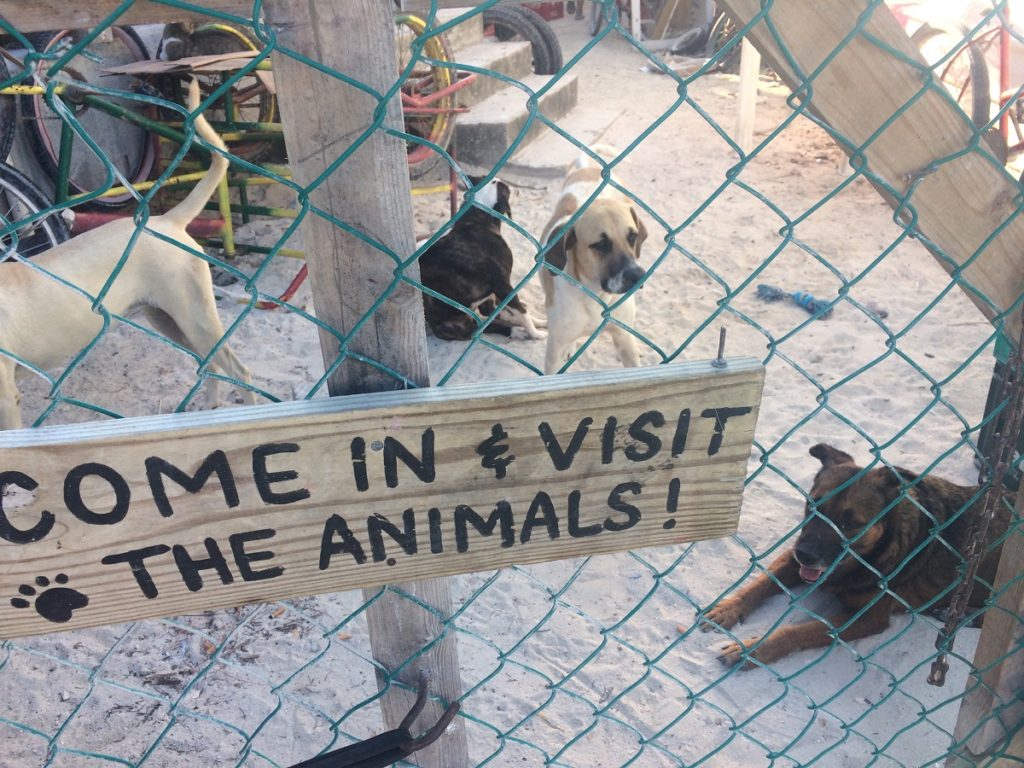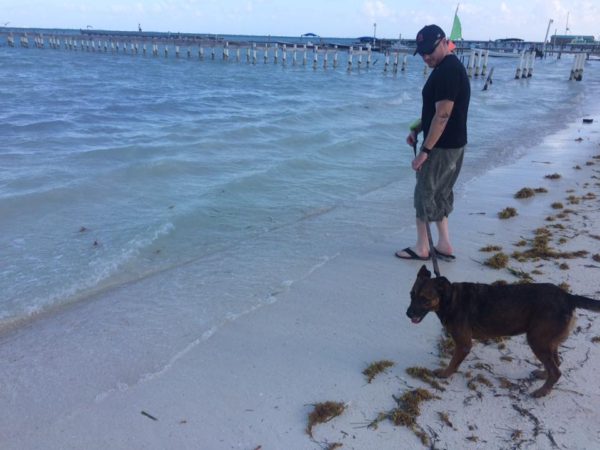 From Caye Caulker, we took a snorkeling trip with Raggamuffin Tours to Hol Chan Marine Reserve and Coral Gardens. Since Taylor already told you about diving in Belize, I'll keep this short and just highlight a couple things.
Seeing and swimming with sharks, stingrays, and various fishes was an awesome experience. It made me appreciate them even more, and it reaffirmed my belief that they deserve protection as much as pigs and cows and dogs do.
The folks at Raggamuffin were fantastic, and I'd highly recommend going with them if you ever travel to Belize! However, their vegan lunch left much to be desired—I ate a salad and rice! Luckily, Brad packed a few Clif bars for us to eat too. The reason I'm mentioning the lunch at all is that I was delightfully surprised that there were three other vegans on our boat—out of about 15 people!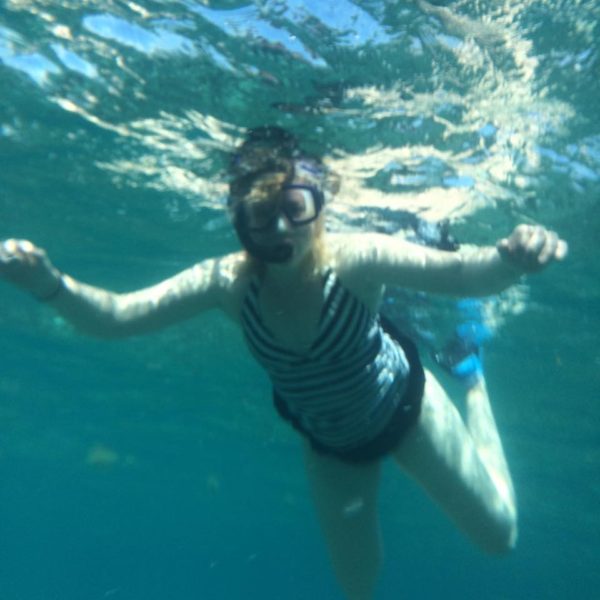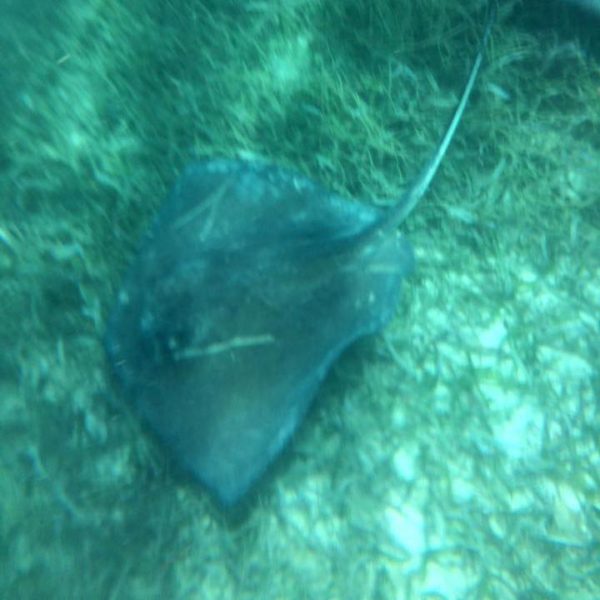 If you have a chance to visit the western part of Belize, I recommend doing so. After all, it's only about 80 miles from Belize City on the east coast! Brad and I rented a car in Belize City and drove to San Ignacio, where we spent about four days. And we loved every one!
We visited the Green Iguana Conservation Project, a little sanctuary at the San Ignacio Resort Hotel. They rescue green iguanas—animals that are plentiful in Belize and are at risk of being kept and cared for inadequately as pets, being killed for sport, or being eaten. At the sanctuary, we were able to hold iguanas, pet and feed them, and learn about their plight in Belize. It was fantastic!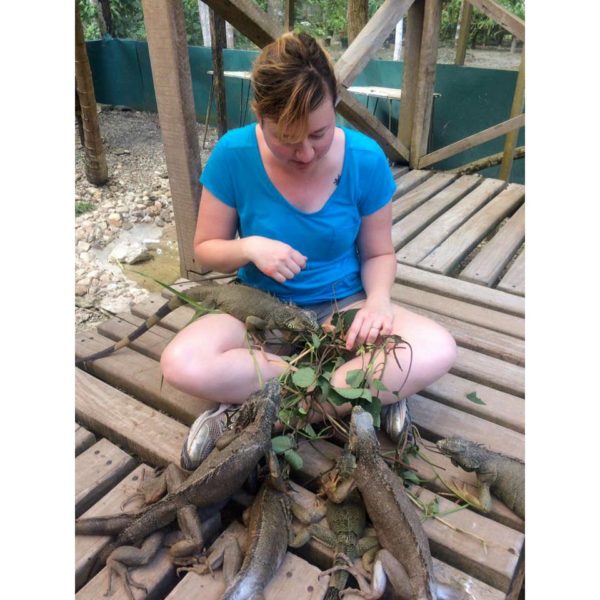 A few other activities we did in and around San Ignacio didn't necessarily involve animals, but they're good ways to fill time and were very vegan-friendly. In San Ignacio, we visited AJAW Chocolate & Crafts and saw a demonstration of chocolate-making that originated with the early Mayans.
We got to taste it in the form of chocolate beverages we made for ourselves—and since they don't add milk, it was all vegan except for optionally adding honey. We also did tastings at two hot sauce companies—Marie Sharp's and Hot Mama's. Marie Sharp's is a brand you'll see all over the place in Belize. And even though it's tasty, we preferred Hot Mama's. We brought a bunch home to eat! Most of the hot sauces and jams sold by these companies are vegan, but be careful of honey and cream in some jams.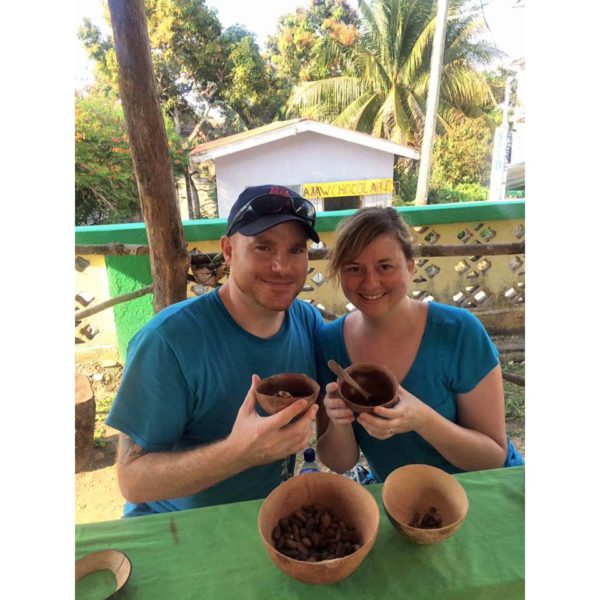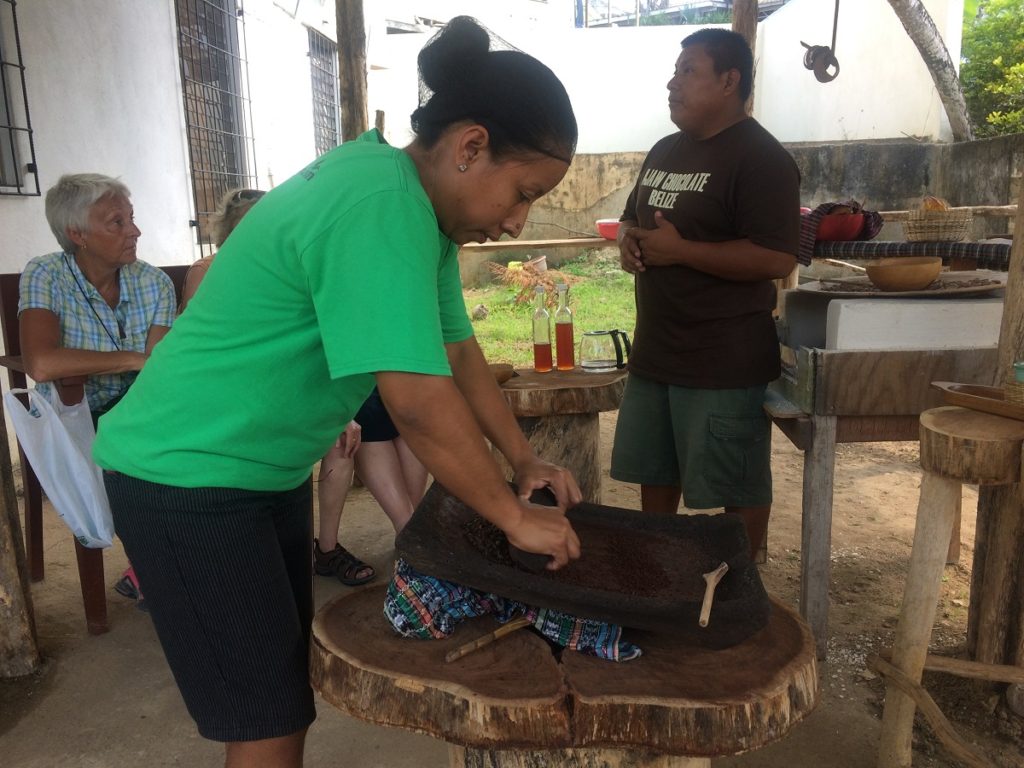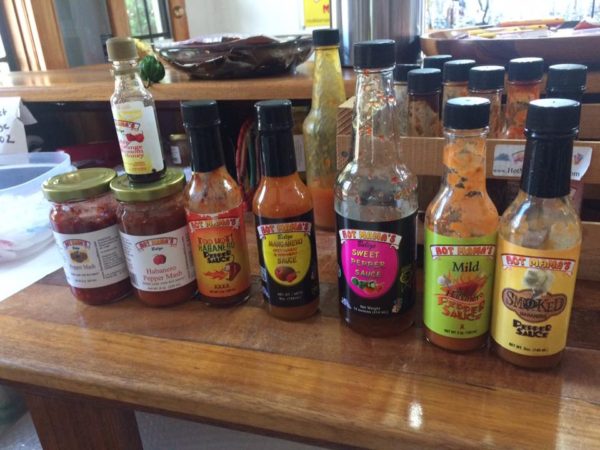 While staying in San Ignacio, we took three trips to see Mayan ruins—the Actun Tunichil Muknal cave, Xunantunich, and Caracol. One trip we made by ourselves, but the other two were with local tour companies. We ordered vegan lunches in advance, and we were pleasantly surprised by how good they were. In both cases, the tour operators' wives prepared the meals for us. I could tell they went out of their way to figure out what would make a good, filling meal for vegans. We were very appreciative!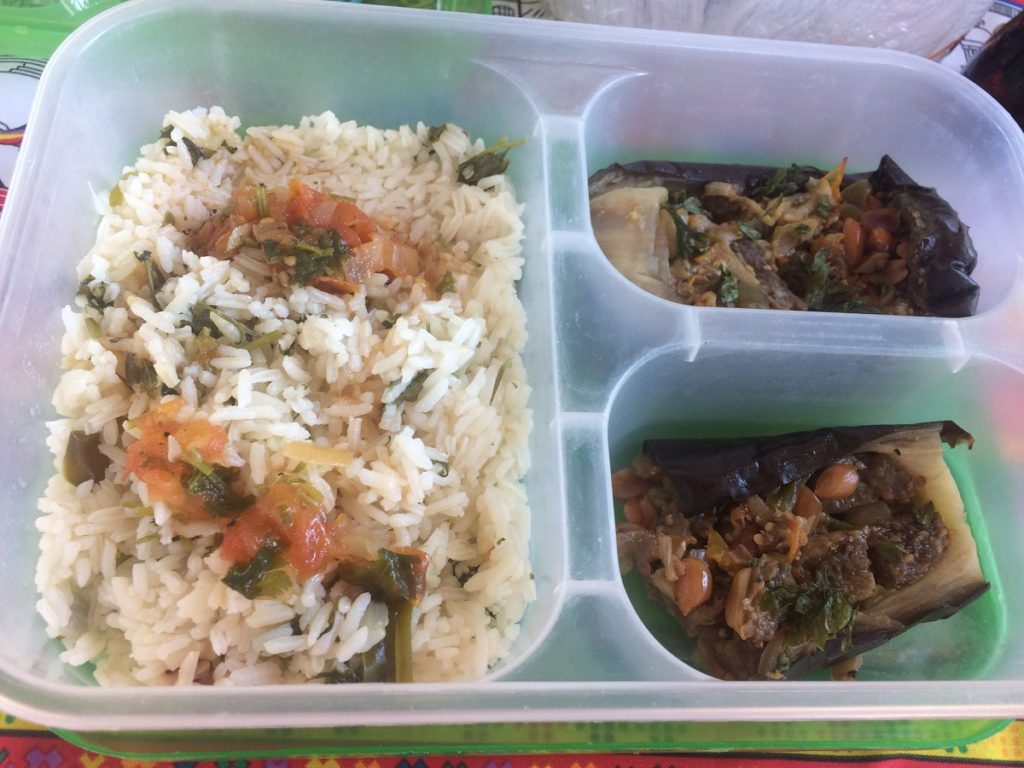 Belize's beautiful beaches, animal sanctuaries, and cave adventures are just a few reasons why it's the perfect vacation spot for anyone looking for a little relaxation or adventure. We hope you've enjoyed learning about our experiences and have convinced you to take a take a trip of your own! If you have any questions about veganizing your trip to Belize, feel free to contact us at [email protected] and [email protected]!