By Lori Stultz, Communications Manager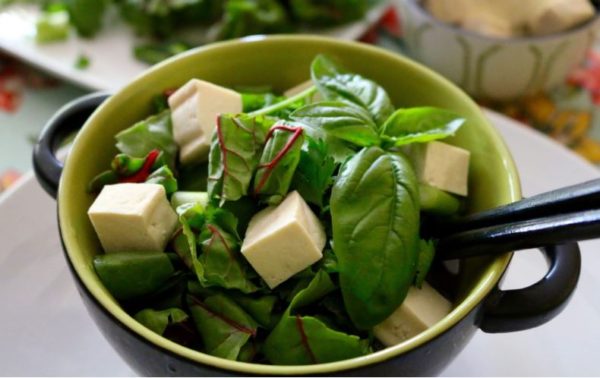 Pho is one of those dishes I don't enjoy unless I'm at a restaurant that serves it—and prepares it vegan! Why? I have no idea. There's no reason to not make this at home, especially with Sharon Palmer's easy Vegan Tofu Pho recipe.
Vegan Tofu Pho
Yields 4 servings.
Ingredients
Broth
4 cups reduced-sodium vegetable broth
½ medium yellow onion, chopped
½ cup sliced shitake mushrooms
1 medium carrot, sliced
4 garlic cloves, minced
8 thin slices peeled fresh ginger root
1 tablespoon reduced-sodium, gluten-free soy sauce
1 tablespoon rice wine vinegar
1 tablespoon agave syrup
¼ teaspoon ground black pepper
2 cinnamon sticks
2 star anise pods
½ teaspoon whole coriander
6 sprigs of fresh basil
6 sprigs of fresh cilantro
Noodles
1 8-oz package gluten-free flat brown rice noodles
Toppings
1 15-oz package extra firm tofu, pressed, cubed
2 bunch greens (i.e., Swiss chard, spinach, kale) sliced thinly
½ cup coarsely chopped cilantro
½ cup coarsely chopped basil
1 small lime, cut into wedges
1 small jalapeño pepper, seeded and diced
4 green onions, sliced
Directions
To Prepare the Broth

: Combine all the broth ingredients in a large pot, cover, and bring to a low boil. Reduce the heat and simmer for 30 minutes. Strain the broth, discarding the vegetables and seasonings. Return the strained broth to the pot, cover, and keep warm (broth should be bubbling right before serving time). While broth is cooking, prepare noodles and toppings.

To Prepare the Noodles

: Bring a medium pot of water to a boil. Add the rice noodles, cover, and cook until just tender, about 5 minutes, or according to package directions. Drain the noodles immediately and rinse with hot water. Return the drained noodles to the pot and cover.

To Prepare the Toppings

: Arrange the toppings on a large platter.

To Serve the Soup

: Divide the noodles among four very large soup bowls. Either garnish the noodles with desired toppings or let your guests do their own. Ladle boiling broth over the noodles and toppings, and serve immediately. Allow hot broth to wilt vegetables and cool slightly before eating it.