By Lori Stultz, Communications Manager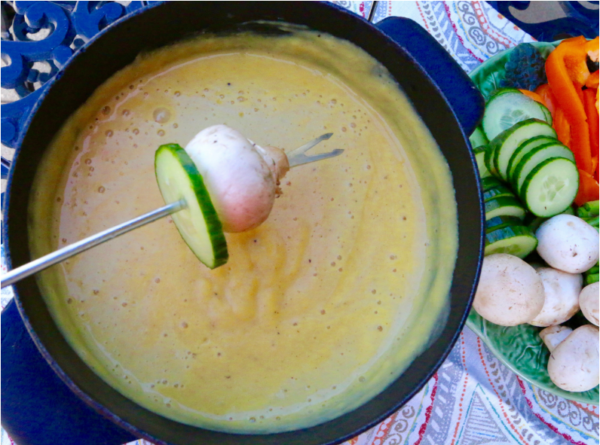 If you're hosting a party in the near future and want to impress your guests with a unique eating experience, look no further. They'll be raving about this cheese fondue from their first bite to long after their last!
Try serving it with the list of suggested veggies or breads, or any other dip-worthy foods that that sounds good to you!
Thanks to our good friend Sharon Palmer for providing this awesome recipe! Be sure to check out Sharon's blog for other great meal ideas like this one!
Vegan Cheese Fondue
Yields 8 servings.
Ingredients
1 pound small, fresh yellow potatoes (i.e., Yukon gold, fingerling), peeled (see Recipe Tips section below), quartered
2 medium carrots, chopped
1 tablespoon extra virgin olive oil
1 yellow onion, diced
2 cloves garlic, minced
2 tablespoons cornstarch
1 cup dry white wine (i.e., Chardonnay)
½ cup reserved potato water
½ cup unsweetened, plain plant-based milk (i.e., soy or almond milk)
¼ teaspoon white pepper
¼ teaspoon turmeric
Pinch of nutmeg
2 tablespoons nutritional yeast
2 tablespoons Dijon mustard
Salt to taste
Dipping Ideas
Cubed tofu
Seitan strips
Veggie sausage chunks
Cube seitan
Bell pepper chunks or strips
Mushrooms
Broccoli florets
Cauliflower florets
Cucumber slices
Asparagus spears
Snow peas
Bread cubes
Pita triangles
Directions
Place potatoes and carrots in a medium pot, cover with water, cover with a lid and cook for about 10 minutes, until tender. Drain, reserving ½ cup of water, and place cooked vegetables in a blender container.
While potatoes are cooking, heat olive oil in a large skillet and add onions and garlic. Sauté until tender, about 8 minutes. Add onions and garlic to the blender container.
In the skillet (do not clean), add cornstarch and white wine and stir with a whisk over medium heat. Stir in reserved potato water and plant-based milk until smooth. Add pepper, turmeric, nutmeg, nutritional yeast, and mustard and heat until thickened and bubbly.
Pour white wine mixture into the blender container with the potatoes and onions and process until smooth. Adjust seasonings with salt as desired.
Transfer this fondue mixture to a fondue pot and heat until bubbly.
Serve with dipping ideas, such as cubed pieces of bread, fresh vegetables, and tofu.
Recipe Tips
You can peel these potatoes easily if you cook them first, and then slip off the peels when they're done.