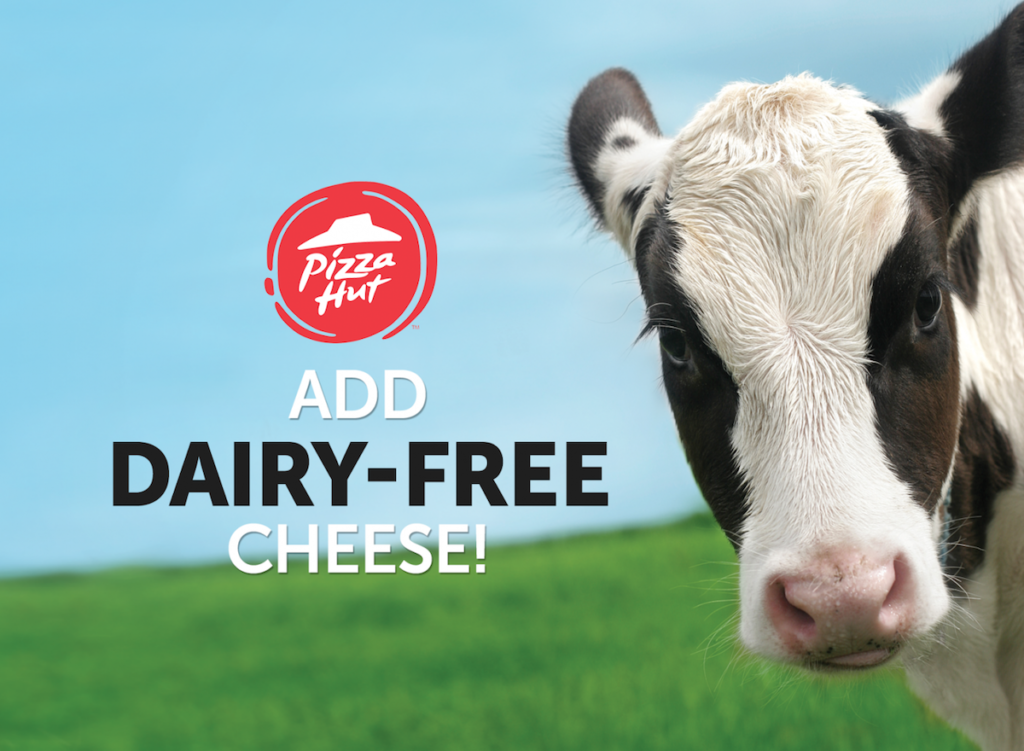 Vegan Outreach has joined animal advocacy group Farm Animal Rights Movement (FARM) in asking one of the world's largest pizza chains to add a dairy-free cheese! Pizza Hut has 13,000 restaurants in 130 countries, yet hasn't joined the countless pizza chains who have added options for vegan and dairy-intolerant customers.
Here's what you can do to help.
1. Sign the petition.
Take 30 seconds and sign FARM's petition to show the national support for a vegan cheese!
2. Fill out a Pizza Hut postcard.
Order postcards here, and on May 14, join the national day of action by delivering them to the manager at your local Pizza Hut. Make sure to snap a photo to share on social media, tagging @Pizzahut and ending your post the #pizzahut hashtag!
3. Take a selfie!
Print out this sign that reads "I want dairy-free cheese because…" and write in why Pizza Hut should carry vegan cheese. Snap a selfie with the sign and share on social media tagging @farmusa and @veganoutreach with the #DemandDairyFree hashtag.
4. Send a quick email or make an easy call.
Take two minutes and fill out the Pizza Hut customer feedback form asking them to offer vegan cheese. Follow up by calling your local Pizza Hut and asking to speak with a manager—tell them you'd love a vegan cheese at their location.
5. Reach out to Pizza Hut online.
Comment on Pizza Hut's Facebook page telling them you would love to support a vegan option. Do the same on Twitter and Instagram to triple your impact!
These steps only take a few minutes and could convince one of the largest pizza companies in the world to invest in an option that doesn't harm animals and makes vegan eating more accessible. Thank you!