Throughout the summer and into early fall, Vegan Outreach hosted several Vegan Mac Down competitions across the U.S. And a few weeks ago, we shared the winning mac and cheese recipe from the Vegan Mac Down L.A. event. This week, we're sharing the winning recipe from the Mac Down event hosted in Santa Fe, NM.
The winner, Nataley Quintana, wowed the hungry attendees with her It's Nacho Mama's Mac dish. We encourage everyone to make this mac and cheese dish for themselves and let us know how much you loved it!
In case you've missed the Vegan Mac Down excitement, check out these recent editions of our weekly E-news—August 30 and October 4.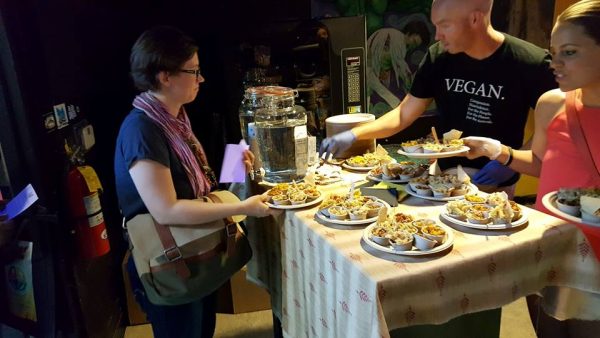 It's Nacho Mama's Mac
(Unless your mama is vegan, then maybe it's like hers…)
Yields 4-5 servings.
Ingredients
16 oz package of macaroni, cooked al dente
1 tablespoon non-dairy buttery spread
1 tablespoon flour
2 cups nut milk
2-3 garlic cloves, finely chopped
¼ onion, finely chopped
6 tablespoons nutritional yeast
1 tablespoon mustard
¼ teaspoon nutmeg
¼ teaspoon smoked paprika
8 oz roasted and chopped green chile—here's a quick tutorial video on how to roast green chilies
1 package vegan cheese shreds
½ cup vegan sour cream
salt and pepper to taste
Directions
Cook macaroni according to instructions on package.
In a medium saucepan, melt buttery spread on low heat.
Stir in flour and cook for one minute stirring constantly.
Whisk in the nut milk a little at a time. Add the garlic and onions and cook a few minutes until sauce starts to thicken slightly. This will take about 5 minutes.
Stir in the nutritional yeast, mustard, nutmeg, paprika, green chile, and vegan cheese shreds. Be sure to add the vegan shreds a handful at a time. Cook until sauce is thickened and the cheese shreds are completely melted. Combine the cooked pasta with the sauce and stir in sour cream. Add salt and pepper to taste. Enjoy!
Recipe Tips/Variations
For a gluten-free dish, use your favorite gluten-free pasta and flour substitutes.