Vic Sjodin, VO's Senior Outreach & Strategy Coordinator, has leafleted 60 different schools this fall, handing out more than 43,000 Vegan Outreach booklets!
Earlier this semester, Vic (above, left) teamed with Vegas Veg activists to leaflet the University of Nevada, Las Vegas:
A HUGE, just massive day for this school; great team effort. Together we raised the one-day school record here from 1,450 to 3,290!

Some highlights: I met Brian [below, left], a freshman who read Your Choice and asked for more information on how to make the switch – boom – Guided and encouraged. Shortly thereafter, I met Zack [below, center], a biochem major who had been veg-curious before; he read a booklet and we had a long conversation – boom – going vegan, he said! And Elaine [Vigneault, above] met John, who had already stopped eating pigs and cows and is now working on eating fewer chickens; and Nicole [below, right], who now wants to go veg!

Huge thanks to Elaine for getting local folks out, and for all her efforts to promote veganism locally. Elaine is not playing around and can move some serious lit!

We saw many reading our literature. I'm extremely happy that together we were able to reach so many fertile hearts and minds.

—Vic Sjodin, 10/14/14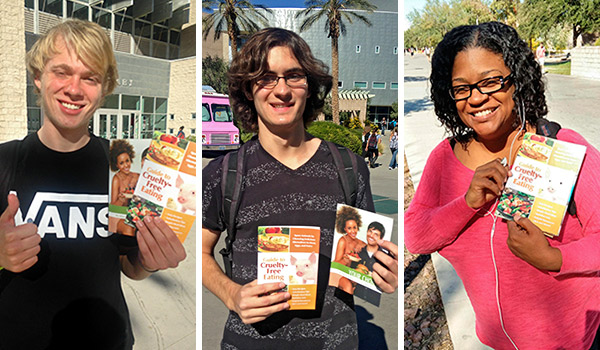 Through December 31, your fully tax-deductible donation to Vegan Outreach will create twice as many new vegetarians and spare twice as many animals from suffering!