Yuri Mitzkewich, VO's Southeast Outreach Coordinator, has traveled to 60 different schools this semester, handing out more than 52,000 Vegan Outreach booklets!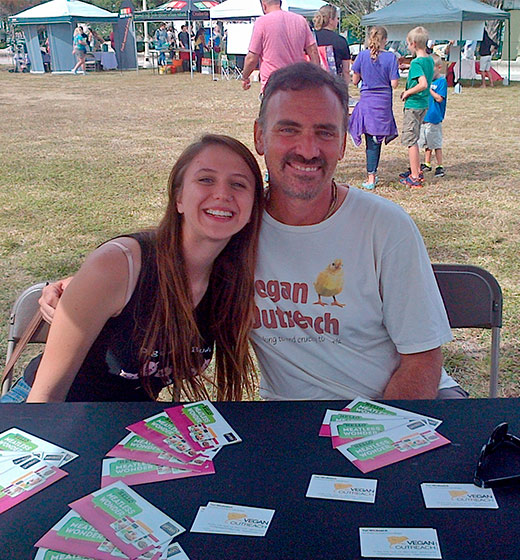 The take rate tonight at the University of South Florida Sarasota-Manatee was good like I never had seen before, with me almost scoring my first 100% handoff night – all perfection but for one guy refusing a booklet. Most though were extremely friendly and curious, giving me a good feeling that most would at least be giving their Compassionate Choices a good read.

The highlight came near the end when I met April [shown below]. She told me it was a leaflet she'd gotten a few years back that got her to go vegan! A mom of two, she eventually got her husband on board, and now – from that one leaflet way back – her whole family's veg! Such amazing feedback to hear – I won't in a hundred years ever get tired of hearing people tell me that!

—Yuri Mitzkewich, 11/19/14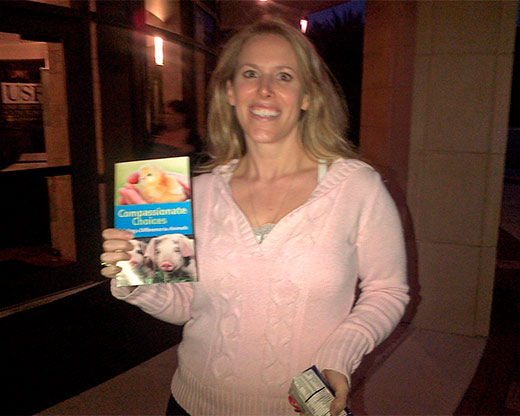 Just one Vegan Outreach booklet can create ripples of change for the animals: Donate to VO by December 31 and double the impact of your donation!