By Lori Stultz, Communications Manager
The last time our friend—and founder of Brownble—Kim Sujovolsky brought us a breakfast recipe, she showed us how to make PB & J Stuffed French Toast. A rather unique, but absolutely delicious meal!
This time, Kim is showing us how to make a breakfast classic—Blueberry Pancakes!
Thank you, Kim, for continuing to share your culinary magic with Vegan Outreach and its supporters!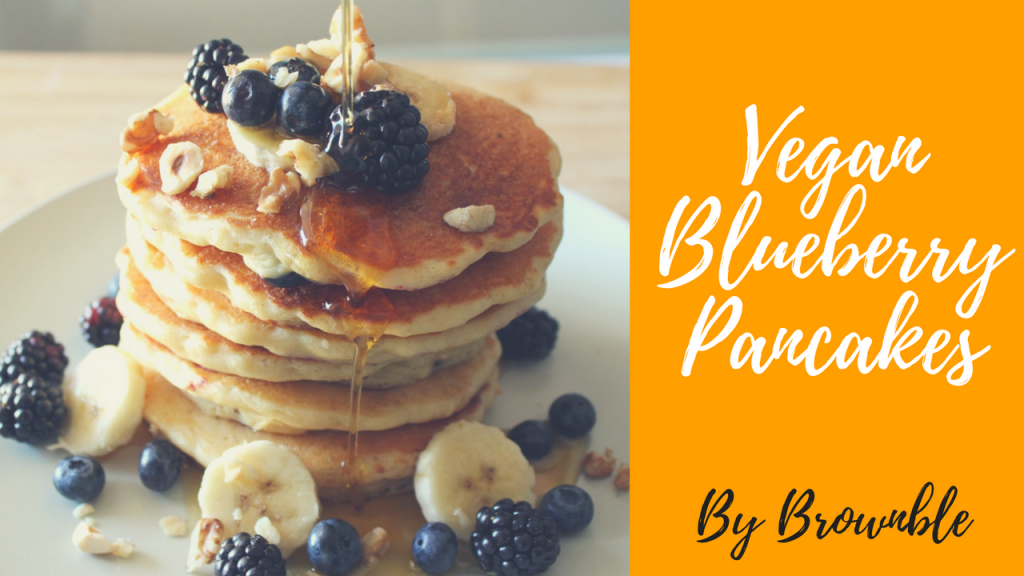 Vegan Blueberry Pancakes
Yields 6 pancakes.
Ingredients
Pancakes
1 cup soy milk or your favorite non-dairy milk
1 ½ teaspoons apple cider vinegar
1 tablespoon ground flaxseeds
1 cup all-purpose flour
2 teaspoons baking powder
½ teaspoon salt
1 tablespoon vegetable oil
1 tablespoon 100% pure maple syrup
½ teaspoon vanilla extract
Blueberries
Toppings
Mixed berries
Banana slices
Chopped walnuts
Some non-dairy butter and 100% pure maple syrup
Directions
In a small bowl, whisk together the milk, vinegar, and ground flaxseeds to make the buttermilk. Set aside while you prepare your other ingredients.
In a large bowl, sift the flour, baking powder, and salt. Mix until well combined.
Add in the oil, maple syrup, vanilla extract, and buttermilk mixture.
Mix with a fork until just combined—be very careful not to overmix. The batter will be very thick, and some lumps are OK.
Let the batter rest for 10 to 15 minutes. This is key for achieving perfect fluffy pancakes!
Add a small amount of high heat oil or spray oil to a large griddle or non-stick pan. Turn burner to medium-high heat.
Add pancake batter to a pan or griddle using a ¼ measuring cup. As soon as you've added the batter, turn the heat down a little and top each pancake with a few blueberries. Continue to cook for a few minutes on each side—until the pancakes are golden brown. Repeat until the batter is gone.
Top pancakes with a pat of non-dairy butter, sliced banana, berries, chopped walnuts, and pour maple syrup on top. Enjoy!