I'm excited to tell you that our Green Tuesday Initiative reduced 529,109 pounds/ 240,000 kgs of animal products so far in 2022 from getting served. Halfway through 2022, we've already reached 60% of our annual goal.
Recent Campaign Successes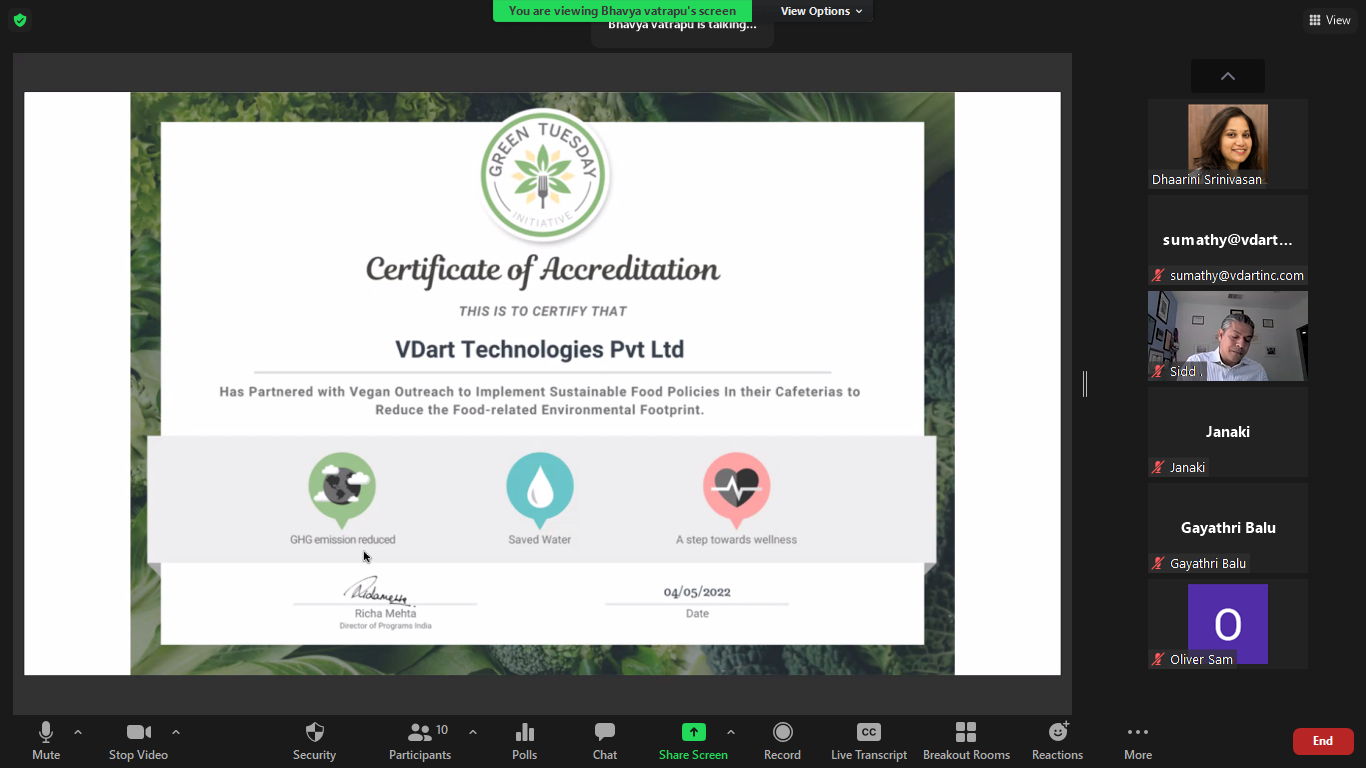 VDart Technologies, a tech and business consulting firm based out of Tiruchirappalli, has implemented the Green Tuesday initiative. On 4th May 2022, their sustainability and admin teams came together along with Sidd Ahmed–CEO and Oliver Sam–Vice President, for the virtual accreditation event.
VDart pledged to reduce their weekly milk and egg consumption. This change will reduce 11,700 eggs and 3,510 liters of milk annually.
Tech Mahindra's new campus joined the Green Tuesday Initiative. This quarter, on World Environment Day, June 5th, Bahadurpally campus started serving meat-free meals to all the employees on Tuesdays.

This change will reduce 67,600 kgs/ 149,032 pounds of Chicken and 676,000 eggs annually. With this addition, 16 Tech Mahindra campuses are part of the Green Tuesday Initiative.
Highlights of the Bangalore Tour

After two years of not traveling due to the pandemic, we did a tour in Bangalore to visit companies and institutions. The tour was indeed very successful. Here are the highlights of the tour:

We renewed the Green Tuesday partnership with REVA University, one of the largest universities in India with 15,000+ students. They will now serve meat-free meals 5 days a week. This change will reduce 62,160 kgs/ 137,039 pounds of chicken annually.
Carl Zeiss, a Germany-based optoelectronics manufacturing company, joined Green Tuesday Initiative. They now serve meat-free meals on all days of the week to all their employees. This change will reduce 11,700 kgs/ 25,794 pounds of chicken annually.

Along with visiting the partners, Bhavya and Sowndarya also got a chance to brainstorm, unwind, do team-building activities, and explore vegan food in Bangalore.

"I joined Vegan Outreach during the pandemic and never got a chance to meet our partners in person. Bangalore Tour was an excellent opportunity to meet them, visit their cafeterias, understand their perspectives, and position the Green Tuesday Initiative."

-Sowndarya Ganesan, Campaigns Specialist

A Big Thank You

Thank you for making #TeamVeganMonth a success! With the help of supporters like you, we raised over $137,000 for animals. Each dollar up to our $125,000 goal was matched, which means we can continue to roll out programs to spread veganism to make the world a better place for animals. in India.


With gratitude,

Richa Mehta,
Director of Programs, India