By Lisa Rimmert, Director of Development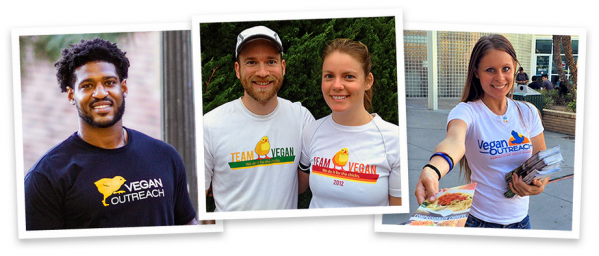 Our Team Vegan matching drive started yesterday (Did you get our email? If not, sign up here!) and every donation to Vegan Outreach will be doubled!
A few generous donors have pledged to match donations up to $200,000! That's $400,000 we could raise for animals–with your help.
What we raise during this Team Vegan drive will determine the work we can (or can't) do this year. We depend on your donations to inspire more people to go vegan–people like Antonio.
Antonio received a booklet from VO's Mexico Outreach Coordinator, Emmanuel Márquez, at Universidad de Guanajuato. Antionio told Emmanuel about how he ate vegetarian for a while but went back to eating animals. Emmanuel gave him a booklet and told him about the Spanish section of the VO website for recipes and nutrition info.
Now Antonio is going vegan!
We hear from people like Antonio all the time, and it's because of folks like you whose donations make outreach possible.
Now, with our Team Vegan matching challenge, you can inspire twice as many people to go vegan, which means twice as many animals spared!
Please donate right now to keep Vegan Outreach going.
Thank you!