By Alex Bury, Organizational Development Consultant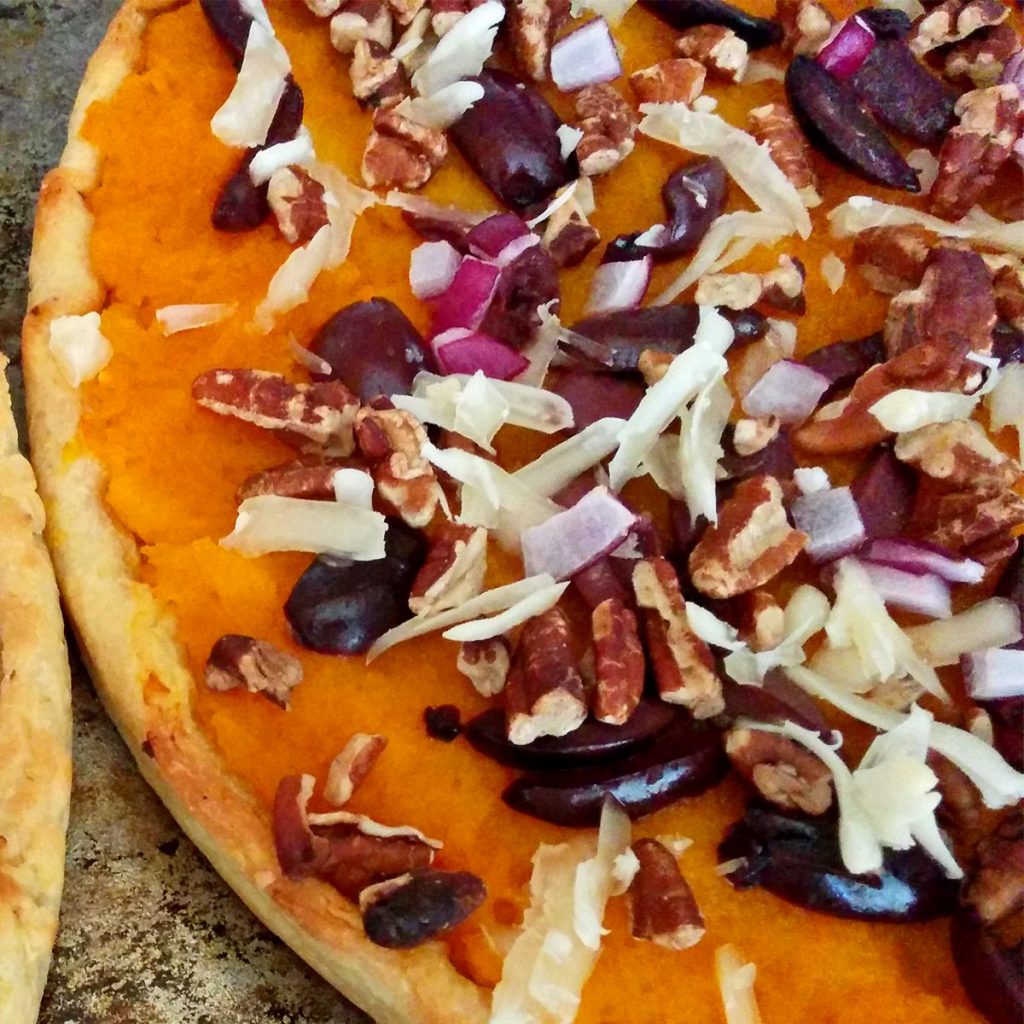 Last week, I shared a scrumptious Fancy Pear Pizza recipe. This week, I'm keeping it just as fancy with, you guessed it, squash!
Roasting the butternut squash will take a little bit of time, but not a lot of effort. You're going to love the end result of this pizza—it's creamy and sweet with a savory and salty tang. And the nuts add a crunchiness that rounds out this pie quite nicely!
Fancy Roasted Butternut Squash Pizza
Yields 8 slices.
Ingredients
1 medium butternut squash, roasted
1 package of Vicolo frozen Corn Meal Pizza Crusts (some stores like Trader Joe's sell these in the cooler section instead of the freezer section)
1 cup walnuts, almonds, or pecans (halved and/or pieces—not finely chopped)
½ cup pitted and roughly chopped Kalamata olives
Sprinkle of salt and pepper
1 cup shredded Follow Your Heart Mozzarella Shreds (optional)
Directions
Heat the oven to 375°F. Place the whole, uncut, unpoked squash on a cookie sheet or in a Pyrex dish for 40 minutes. Turn the squash over after it's been roasting for about 20 minutes. You can tell it's done when the outside is golden brown—you'll be able to easily insert a knife into the thick "neck meat." Remove from the oven and let cool. Once the squash has cooled, you can easily cut it in half and scoop out the sweet, creamy, squashy goodness!
Turn up your oven to 400°F.
Cover the base of each pizza crust with the cooked squash. You'll need about 2 cups of squash per crust, but the amount you put on the crust is up to you! More squash makes it creamier and sweeter, less squash makes it crisper and savorier.
Sprinkle the nuts and olives over the squash, and then sprinkle with salt and pepper. If you're using vegan cheese, sprinkle it on top before putting the pie in the oven!
Bake the pizza until the nuts and crust are golden brown. Serve and enjoy!
Recipe Tips/Variations
Even with the salty olives on top of the pizza, you'll likely want a bit more salt sprinkled on top.
This is great with sliced Tofurky Italian Sausage mixed in with the olives and nuts.
You can season the squash before putting it on the pizza. Try seasoning it with salt, pepper, olive oil, and nutmeg.