By Lori Stultz, VO Communications Manager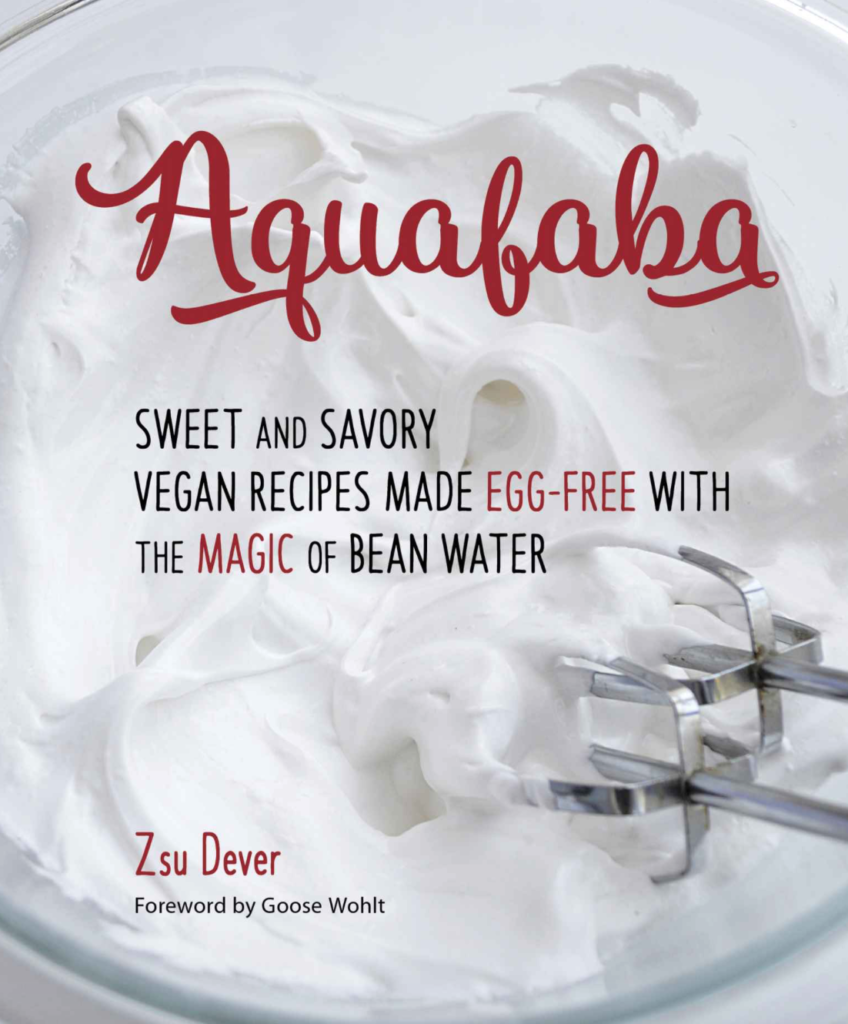 One of the most frequent questions I get from non-vegans when discussing cooking and baking is, "What do you use in place of eggs?"
That question is easy to answer when it comes to things like cupcakes and cookies, but when it comes to food that calls for a foam-like texture, like meringue, mousse, and angel food cake—which is traditionally provided through whipping eggs—the answer hasn't always been easy…until now.
Thanks to Zsu Dever and her new cookbook, Aquafaba: Sweet and Savory Vegan Recipes Made Egg-Free with the Magic of Bean Water, vegans or anyone looking to avoid eggs now has a detailed, comprehensive guide on how to make foods like meringue cookies, marshmallows and marshmallow crème, and even Mississippi Mud Pie!
Ok, so let's back up a bit and discuss how this is even possible.
As Zsu describes in her book, this long awaited egg-free substitute surfaced only within the last year or two as several people across the globe were experimenting with plant-based foods in hopes of finding something that mimics an egg.
All finally came to a head when U.S. software engineer, Goose Wohlt, announced in a Facebook community, called "What Fat Vegans Eat," that he'd successfully made a stable meringue utilizing leftover chickpea water—liquid left after cooking chickpeas—and sugar. Goose named his wonderful discovery aquafaba, which is a combination of the Latin root words for water and bean.
While the answers are still not cut and dry, the theory behind the success of aquafaba is that—
…[s]ome properties of the beans (carbohydrates and protein) leech into the cooking liquid and that these ingredients, with the proper consistency, mimic certain qualities of eggs. It is also thought that aquafaba can act in some respects like egg yolks and in others as egg whites.
The difference of protein amounts in an egg versus aquafaba, in addition to the difference of fat and carbohydrate content, are thought to be the limiting factors. This is why aquafaba can't be an ingredient that stands alone, nor can it make foods like custards or omelets.
And no matter where you access a recipe utilizing aquafaba, whether it's online or in Zsu's book, it will most likely call for chickpea water. Why? The water of light color legumes is less detectable.
I'd go as far to say that Zsu's book is essential when opening the door to the aquafaba world. She details every "how" you'd need to know—how to make it, how to whip it, how to use it, and how to store it. There are variations within all of these "hows" and it's important to know those differences.
With this very basic background information on aquafaba, I leave you with a recipe for Coconut-Key Lime Cream Pie from Zsu's cookbook. I also strongly encourage anyone who is interested in incorporating aquafaba into their culinary know-how to buy her book! From meringues to fritatta, Zsu will walk you through all the wonderful creations aquafaba has to offer.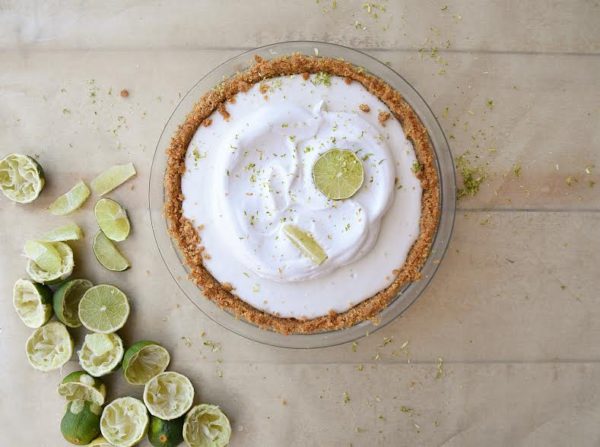 Coconut-Key Lime Cream Pie
Yields 8 servings.
Ingredients
¼ cup aquafaba (for convenience and simplicity, canned chickpea water will work fine)
1 ½ teaspoons agar powder
½ cup granulated organic sugar
½ cup fresh key lime or lime juice, divided
1 14 oz can coconut cream (not canned coconut milk)
1 teaspoon pure vanilla extract
1 Graham Cracker Crust (the Keebler brand is vegan)
Zest of 1 lime
Store bought vegan whipped topping (optional)
Directions
Combine the aquafaba and agar in a small saucepan, mix well, and set aside for 3 minutes. Add the sugar and ¼ cup of the lime juice, bring to a boil over medium-high heat, and reduce to a simmer over medium heat. Cook, stirring, until the agar comes up to 195°F, about 5 minutes. Immediately add the sugar syrup to the bowl of a stand mixer fitted with a balloon whip attachment. Whisk on medium-high until the syrup flows in thick ribbons, about 7 minutes.
Reduce the mixer speed to medium and slowly add the remaining ¼ cup lime juice. When well incorporated, add the coconut cream 1 heaping tablespoon at a time. Incorporate and emulsify each portion before adding more. Add the vanilla and continue to mix until very smooth. Transfer the filling to the prepared crust. Garnish the pie with the lime zest and chill in the refrigerator overnight to firm up. Serve with the whipped topping, if desired.
An Important Recipe Note from the Cookbook Author: The cookbook has a whipped topping recipe for this pie, but because it's one of the more challenging recipes in the book—you really have to know all the information regarding peaks, adding fats to meringue, humidity, etc.—it was best to omit it from this pie recipe. It just leaves too much chance for a miss without the needed background. Using store bought vegan whipped cream will work just fine until you become a master at aquafaba!