Welcome to the last installment of our three-part series featuring this semester's most prolific leafleters of Vegan Outreach's Adopt a College Program.
If you haven't had a chance to check out the other top leafleters, be sure to see Part I and Part II!
This week we'll introduce you to the top 5 leafleters—who've all reached a mind-blowing number of people, and, as a result, helped a countless number of animals!
Kimberly Moffatt, VO Outreach Coordinator
"My favorite leafleting experience this semester was at Radford University in Radford, VA. Not only did I meet many vegetarians and vegans, but also I had a few conversations with people about the leaflets. Everyone, including staff, was super friendly and even started cheering me on throughout the day!"
Kimberly leafleted at 77 college campuses this semester and distributed 61,692 leaflets.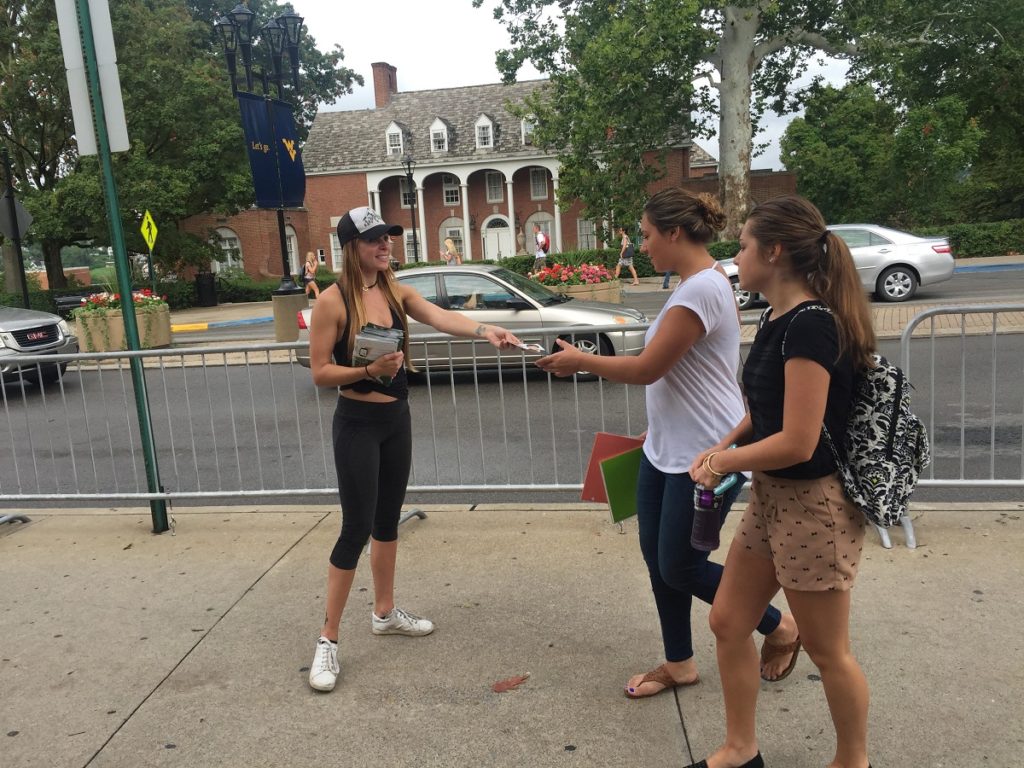 Emmanuel Márquez, VO Mexico Outreach Coordinator
"One of my favorite moments during my leafleting tour in Mexico was when I visited the city of Guadalajara. I was invited to give a presentation at Jalisco Vegan Fest on the effectiveness of leafleting and to set up a table. The presentation went very well—the audience was engaged and was asking a lot of questions. One of the students, Lucía, later told me that she wasn't very interested in the beginning, but ended up enjoying it.
"After the talk, Lucía went to our table and bought a Vegan Outreach t-shirt. She also signed up as a volunteer. Three days later, Katia Rodríguez—VO Mexico Campaigns & Spanish Media Coordinator—and I were visiting a nearby high school and Lucía woke up at 5:00 am to help leaflet. Lucía is super shy, but she overcame that very fast. She told me she was inspired by what I shared in my presentation on how one person can spare many lives by doing this simple and effective activity."
Emmanuel leafleted at 65 college campuses this semester and distributed 40,949 leaflets.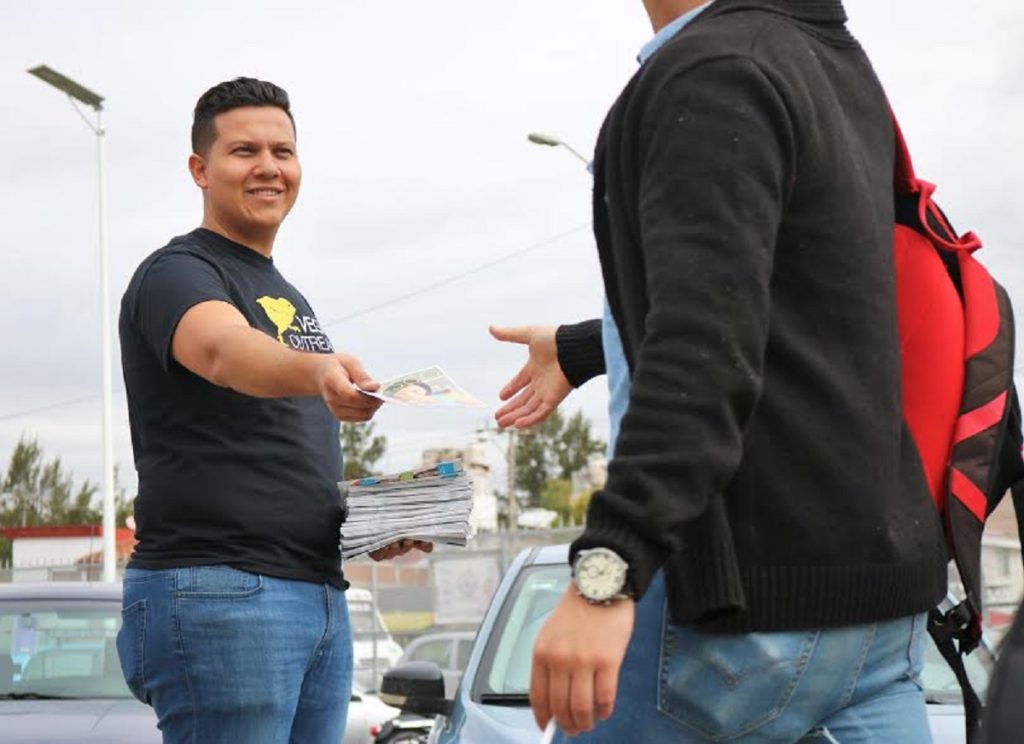 Sam Tucker, VO Australia & New Zealand Outreach Coordinator
"While I was leafleting at Swinburne University of Technology near Melbourne, Australia a student stopped and asked me why I was vegan. I told him I was vegan because I was against animal cruelty. Then I asked him why he ate meat. He said he hadn't really thought about it before. We talked for a while about how animals are treated on factory farms and how you can get all the nutrients you need without eating animals.
"After talking for 15 minutes or so he decided he would try going vegan! He took a Guide to Cruelty-Free Eating and he also took some more leaflets to give to his friends!"
Sam leafleted at 50 college campuses this semester and distributed 41,183 leaflets.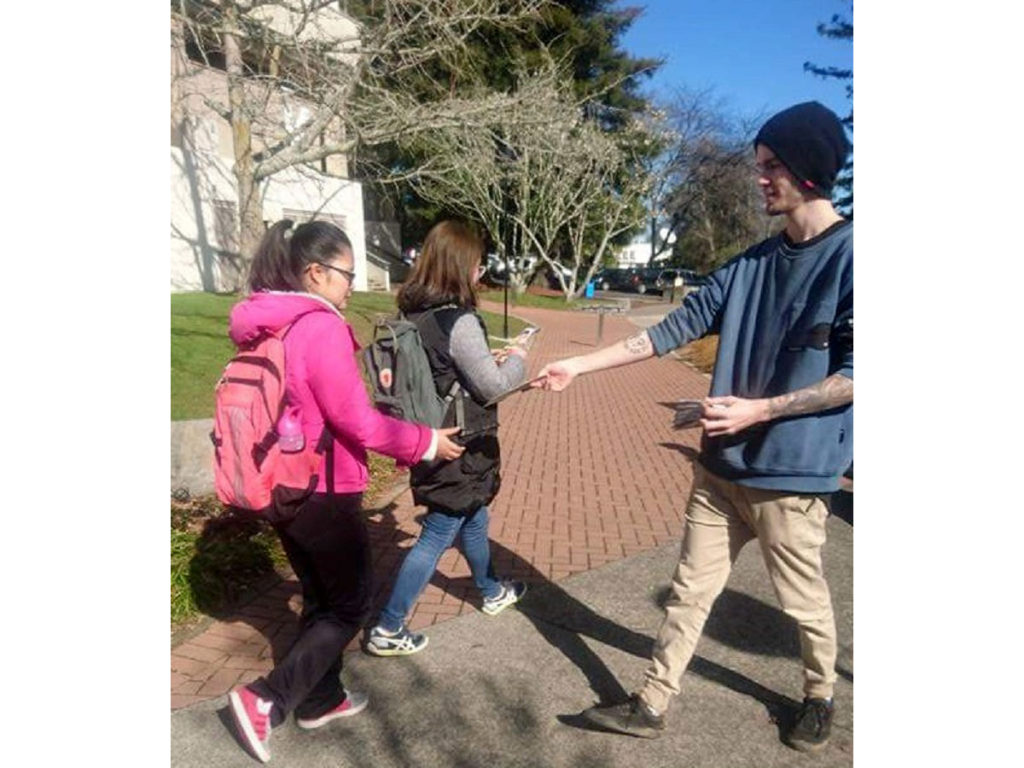 Yuri Mitzkewich, VO Southeast Outreach Coordinator
"My favorite day of the fall semester was when I leafleted at the University of Alabama's main campus in Tuscaloosa, AL in mid-September. Within a short amount of time, I met not only one, but three, vegans! What was great was that the third vegan who passed by, Stephanie, was an officer for the new student animal rights club, Vegan Alliance. Stephanie told me that they had five members when the group started in August and that the group had grown to an astounding 36 members in just a few short weeks! This is a great sign of a growing awareness and compassion for animals at this major southern university!
"Thanks to Vegan Outreach being on campus that day, we helped sign up three new members for the student group, and now I'm making plans to team up with Vegan Alliance during the spring semester. Just one of many great developments I saw taking place across Alabama this fall!"
Yuri leafleted at 88 college campuses this semester and distributed 66,522 leaflets.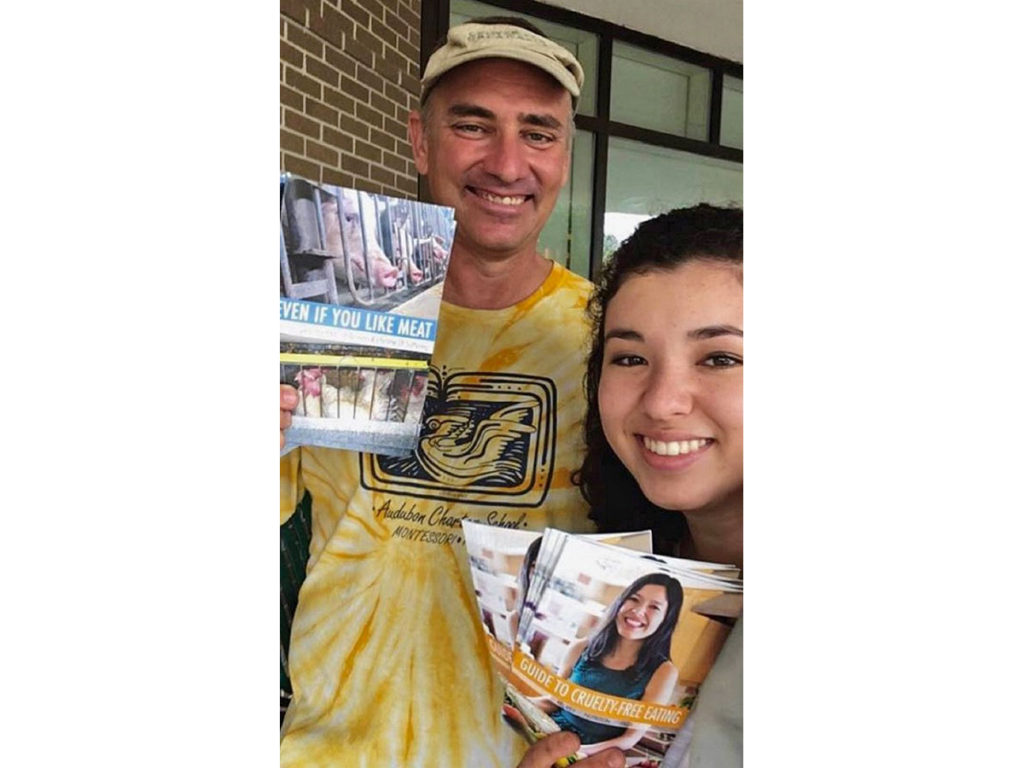 Steve Erlsten, VO Northern California Outreach Coordinator
"One highlight of this semester was meeting a student named James at Cal State San Bernardino. He had been vegetarian since receiving a booklet from Vegan Outreach last year. We spoke for a few minutes, and he told me he was excited to try to go vegan with the help from the Guide to Cruelty-Free Eating booklet I gave him."
Steve leafleted at 82 college campuses and high schools this semester and distributed 58,886 leaflets.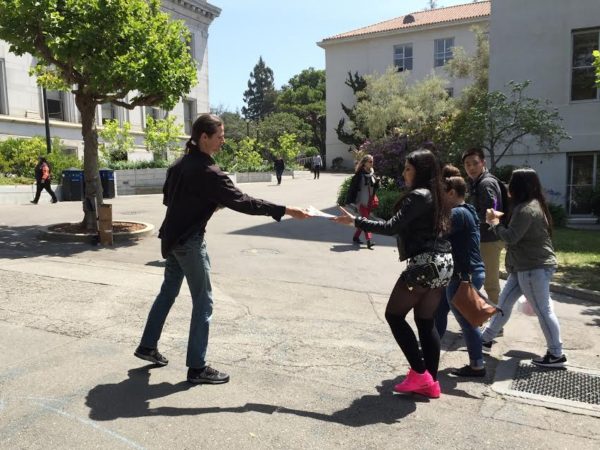 A big round of applause to these 5 leafleters, as well as to every other member of the Adopt a College Program.
The time and dedication everyone put into doing outreach is time well spent for the animals! We look forward to seeing you all next spring!