By Jennifer Mennuti, VO Volunteer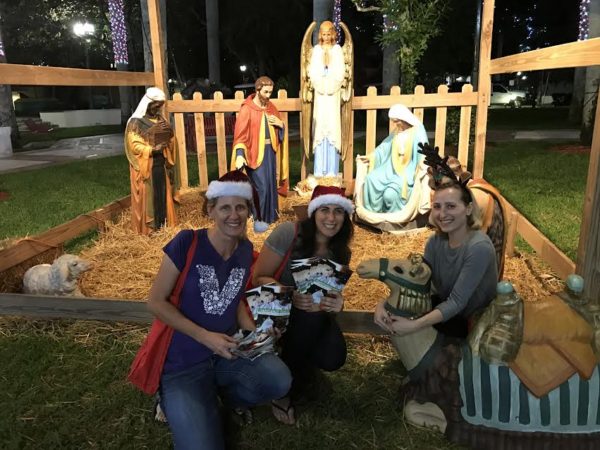 Sometimes, it's a little challenging to get into the holiday spirit in South Florida while it's 80°F outside. People here do their best, though! They string lights around their palm trees and display inflatable snowmen in their yards.
Many cities in South Florida host holiday parades and other festive events, and Vegan Outreach volunteers had great success leafleting the festive crowds this year!
First, on November 29, a few volunteers and I attended an event in Fort Lauderdale called Christmas on Las Olas. At this event, snow is trucked in to create a small mountain for kids to play on, there are bands and choirs performing, and holiday movie screenings.
Christmas on Las Olas attracts 40,000 people—needles to say, it was a crowded event. Despite all the activity, we dispersed 250 pro-veg booklets!
Then, on December 7, we leafleted at a holiday parade in the city of Boca Raton. I met up with new and veteran leafleters, and we handed out 500 Compassionate Choices booklets!
This holiday parade was the ideal leafleting event. We arrived about an hour before the parade began and approached people from the street as they were sitting along the sidewalk waiting for the parade to begin. Once the parade started, the street was blocked, so we handed off booklets to the spectators from behind.
Both events were a lot of fun and offered great opportunities for a little activism!
And for those of you who leaflet college campuses regularly, this is a great way to supplement your activism in between semesters!
If leafleting at a holiday event interests you, I recommend arriving early, wearing festive attire, and smiling a lot! People will probably be more likely to take a leaflet if you say something related to the holiday. For example, at these events we said, "Happy Holidays!"
With many cities and towns worldwide hosting holiday-themed events—whether it's the winter holidays or Independence Day festivities—it's an effective way to spread compassion to a lot of people!
If you don't have leaflets but are feeling inspired, don't worry! Vegan Outreach has you covered! Place your order for booklets here. And for a few quick and easy leafleting tips, check this out—you'll be leafleting like a pro in no time!